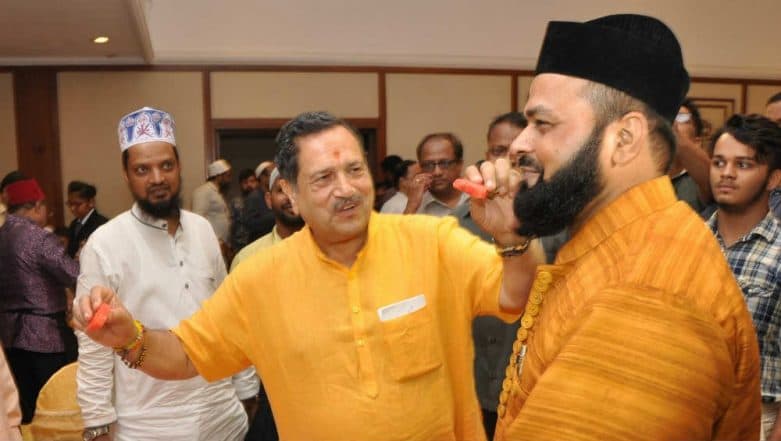 Mumbai, March 17: Hoping for Akhand Bharat or undivided India, senior RSS leader Indresh Kumar on Saturday said Pakistan would be merged with India after 2025. Indresh Kumar made the claim while addressing a gathering on the subject of 'Kashmir-Way Ahead' on Saturday. The supporters of Akhand Bharat call for the unification of India, Pakistan and Bangladesh along with Bhutan, Nepal, Afghanistan and Burma.
"There was no Pakistan before 1947. People say it was a part of Hindustan before 1945. It will again be a part of Hindustan after 2025," Kumar, national executive member of the Rashtriya Swayamsevak Sangh (RSS), said. "You can take it down that five to seven years later, you will get a chance to buy a house or do business somewhere in Karachi, Lahore, Rawalpindi and Sialkot," he was further quoted as saying by Indian Express. Congress is Hurdle on Way of Ram Temple: RSS Indresh Kumar.
Although Kumar did not elaborate on how Pakistan would be a part of India after 2025, he said that New Delhi had ensured that Bangladesh had a government favourable to it. "We have ensured a government in Dhaka of our liking… A Bharatiya Union of Akhand Bharat on the lines of European Union can take shape," Kumar, the patron of RSS-supported Muslim Rashtriya Manch, claimed. RSS Leader Indresh Kumar Has a Solution to Stop Mob Lynchings - Give up Eating Beef.
Kumar questioned the special status granted to the state of Jammu and Kashmir defended the Modi government's staunch stand on policies to deal with issues in the Valley. "The Indian government has taken a tough line on Kashmir issue for the first time. This is because the Army acts on political willpower, and now, the political willpower has changed. So, we have dreams of settling in Lahore and not needing permission from China to go to Mansarovar," he said.
Kumar said China backs Pakistan because it wants to capture it. He said Bejing is angry because India defeated them in Doklam. "We knew China wanted to grab Pakistan internationally. China supported Pakistan because we won a battle against it without the gun. We removed China from Doklam. While the world knew China as unbeaten, we defeated it, which is why it is angry," Kumar said.