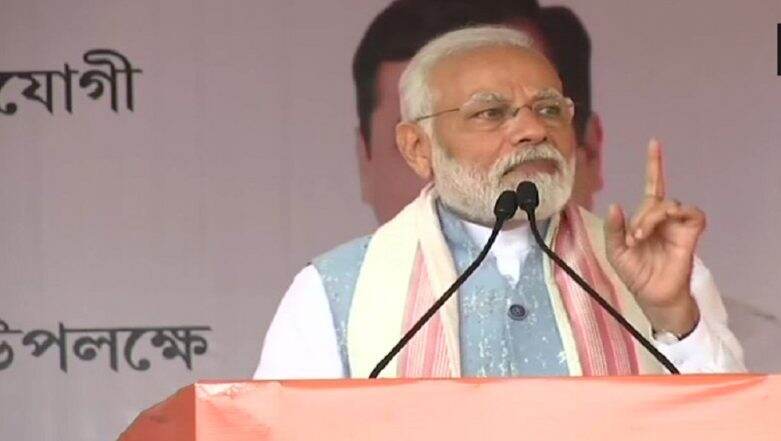 Itanagar, February 7: In a major development push in Arunachal Pradesh ahead of Lok Sabha elections, Prime Minister Narendra Modi today inaugurated and laid foundation stones of many vital schemes worth Rs 4,000 crore at a function in Itanagar. PM Modi laid the foundation stone of Greenfield Airport at Hollongi near the state capital, while inaugurated an upgraded and retrofitted Airport at Tezu. Narendra Modi Declares 100 Per Cent Household Electrification in Arunachal Pradesh.
Speaking at the function at IG Park here, he said his government was giving importance to improve the highway, railway, airway and power situation in Arunachal Pradesh, which was neglected by the previous governments. The Prime Minister said, "Arunachal is a symbol of faith for the country as it gives us strength. The people used to greet each other with 'Jai Hind' and I salute the people for their patriotism." PM Modi also said that work is going on for projects worth Rs 13,000 crore in the state and alleged that the previous regime neglected the northeast region.
PM Modi laid the foundation stone for construction of Greenfield Airport at Hollongi and inaugurated an upgraded and retrofitted airport at Tezu in Lohit district at a worth of Rs 125 crore through remote at a function at IG Park here. The Tezu airport will connect Guwahati, Jorhat and Hollongi. Fruit and flowers of the region can reach any market of the country in a few hours, he said.
The prime minister laid the foundation stone of Sela Tunnel in Arunachal Pradesh. It will provide all-weather connectivity to Tawang Valley for civilians as well as security forces. The tunnel will reduce travel time to Tawang by an hour and boost tourism and related economic activities in the region. The PM inaugurated new Doordarshan 24-hours channel for Arunachal Pradesh, DD Arun Prabha. The channel will be the 24th channel operated by Doordarshan. Arunachal Pradesh Villagers Get Crores of Compensation, Over 50 Years After Their Land Was Acquired by Indian Army.
The 110 MW Pare Hydroelectric Plant was also dedicated to the nation. The hydro elected project constructed by NEEPCO will harness hydropower potential of the river Dikrong (a tributary of Brahmaputra) and provide cheap hydroelectric power to the northeastern states, thereby improving power availability in the region. PM Modi today also declared hundred per cent electrification of all households in Arunachal Pradesh.
(With inputs from PTI)