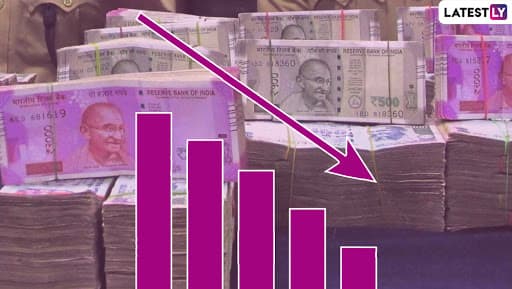 New Delhi, August 20: With the rise in crude oil prices for the third session, the Indian rupee value on Tuesday further weakened to hit over six months low against US dollar (USD) and now touched 71.64 on Tuesday. Estimates state that the decline is 2.3 per cent since February 7.
According to a report, published by global news agency Reuters, the domestic currency traded at 71.64 a USD dollar, which is 0.24 per cent lower than Friday's close of 71.43. Along with this, the 10-year government bond yield was at 6.595 per cent compared with its previous close of 6.589 per cent. Economic Crisis in India: Task Force on Offshore Rupee Markets Submits Report to RBI Governor, Asks Extension of Foreign Exchange Market Hours
Earlier, the Indian rupee opened weak at 71.56 then fell to 71.66 against the US dollar on Monday trade. Even provisional exchange data reports that foreign institutional investors (FIIs) remained net sellers in the capital markets, pulling out Rs 305.74 crore on Monday.
In the international market, Brent crude futures – the global oil benchmark – rose 0.05 per cent to USD 59.77 per barrel, reports PTI. Previously, the Brent crude slipped 3 cents or 0.05 per cent to USD 59.71 a barrel by 7:17 am Tuesday, after rising 1.88 per cent on Monday.
Experts opine that the sudden rise in crude oil prices is due to the tension in the Middle East. Earlier, the US called the release of an Iranian tanker at the centre of an angry confrontation between Iran and Washington.