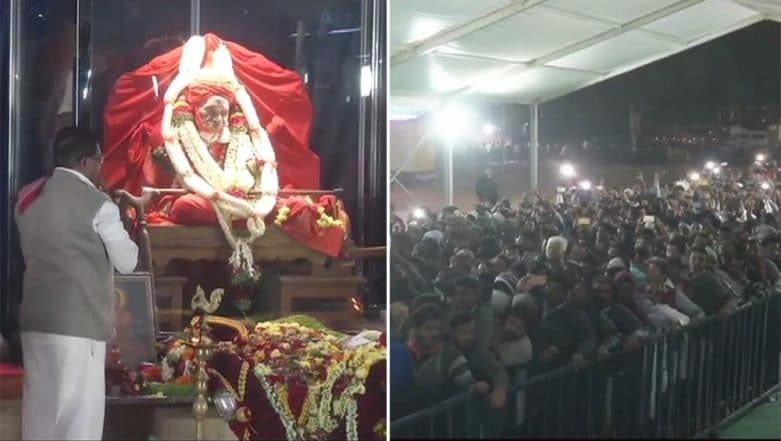 Bengaluru, January 22: Political leaders across all party lines and scores of devotees mourned the death of Sri Shivakumara Swami, the 111-year-old seer and an influential face of the Lingayat community from Karnataka. As the news of his demise broke out, thousands of devotees gathered at the Siddagnaga Mutt premises hoping to catch the last glimpse of the great Seer. The number of people is expected to increase during the day. Security has been beefed up at places around the Sree Siddaganga Mutt in Karnataka's Tumakuru. Many men and women broke down outside his ashram seeing the seer as he was kept in a sitting posture in a glass casket since evening. Watch Sri Shivakumara Swamiji Funeral Live Streaming on TV9 Kannada.
On Monday, the Swamiji's body was kept on a platform for people to pay their last respects at the Sree Siddaganga Mutt. His last rites will be performed on Tuesday at 4.30 pm. The state-run road transport service has arranged an additional 200 buses to take people to Tumakuru for paying homage to the Swami and attend his last rites from nearby towns and villages on Tuesday.
The state government of Karnataka has declared three-day mourning till Wednesday and holiday for schools, colleges and its offices on Tuesday across the state as a mark of respect to the socio-religious icon.
Shivakumara Swami, a highly revered seer and practitioner of the Lingayat-Veerashaiva faith of Lingayatism breathed his last on Monday. He was very critical and on life support and was being treated for a lung infection which he developed after an operation on December 8. The operation was carried out to treat his liver and bile duct infection, reports said. Siddaganga Mutt Seer Sri Shivakumara Swamiji Dies at 111, Last Rites on Tuesday.
Swamiji, often referred to as the "Walking God" of Siddaganga mutt has left an indelible imprint with his stellar contributions in the education sector and philanthropy targeted at children in whom he saw the Almighty.