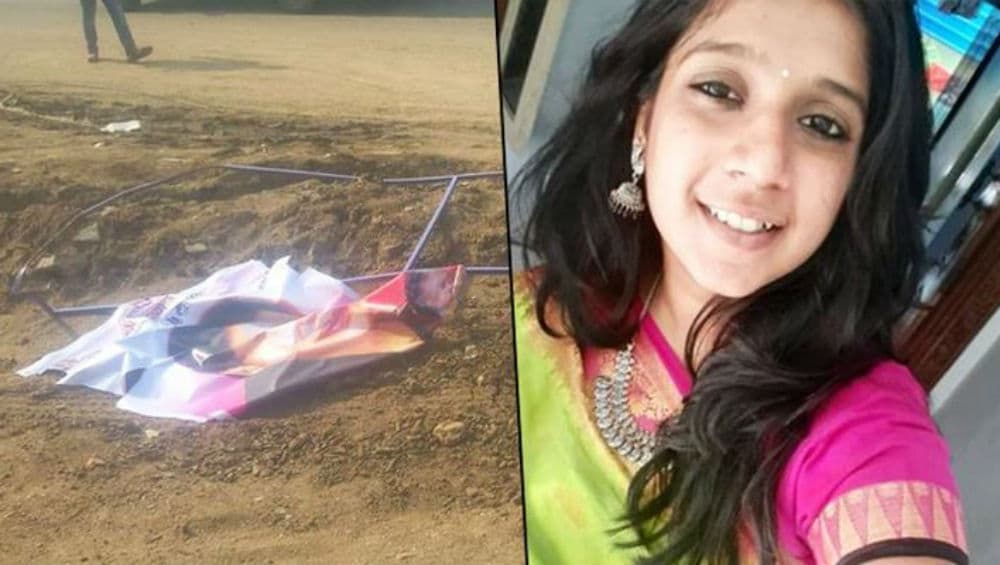 Chennai, September 13: Subashree, a 23-year-old software engineer, died in a road accident after an illegal hoarding, put up by a worker of the ruling AIADMK, fell on her on Thursday. Subashree, who was returning home from her office, when the accident happened. A CCTV camera captured moments when the banner fell on the techie. The video of the road accident shed more light on what led to the young engineer's death. After AIADMK Banner Led to Techie's Death, Stalin Warns DMK Cadre Against Putting Up Hoardings.
In the video, Subashree, who worked at an IT company, is seen riding her two-wheeler on the Pallavaram-Thoraipakkam Radial Road when the banner, which was put up by AIADMK party official C Jayagopal, knocks her down. A tanker comes from behind and hits her scooter, injuring Subashree on the head. According to eye-witnesses, the techie was wearing a helmet when the mishap happened.
CCTV Captures Moment When AIADMK Banner Fell on Chennai Techie:
#Breaking | Madras High Court directs TN Govt and Chennai Corporation to take disciplinary action against officials who failed to prevent illegal banners in Pallikaranai that led to death of 23 year old Subashree.

Details by TIMES NOW's Shilpa. | #BanTheBanner pic.twitter.com/6wUwzaqQ5v

— TIMES NOW (@TimesNow) September 13, 2019
Subashree was rushed to a hospital where doctors declared her dead. The illegal banner had the images of Tamil Nadu Chief Minister K Palaniswami, Deputy Chief Minister O Panneerselvam, late Chief Minister J Jayalalithaa and others for a family wedding. Panneersevlam had attended that wedding. The driver of the tanker has been arrested. Chennai's civic body also sealed the press that allegedly printed the hoarding.
Expressing discontent over the incident, the Madras High Court on Friday said that it is tired of passing orders against these hoardings. A division bench of Justice M Sathyanarayanan and Justice N Seshasayee came down hard on the state government and said: "It's is bureaucratic apathy. Sorry, we have lost faith in the government."