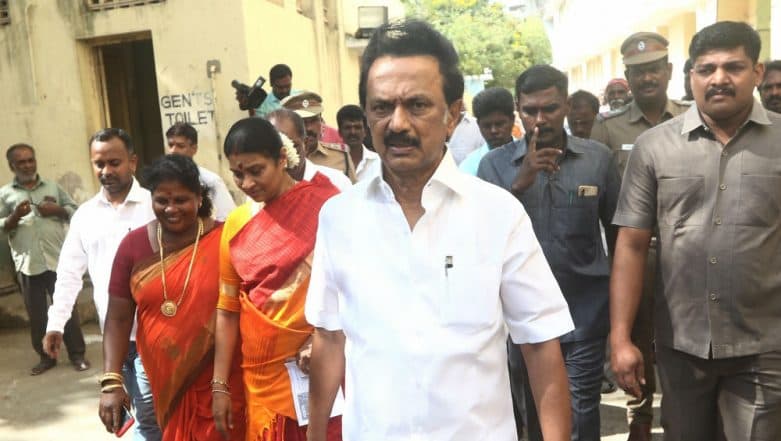 Chennai, September 13: After a banner put up by AIADMK fell on a woman techie leading to her death in Tamil Nadu, DMK president MK Stalin warned cadre of his party against installing hoardings. While slammed the AIADMK government over the tragic death of twenty-three-year-old Subashree, Stalin asked his partymen to avoid banners. The DMK chief said that he would not attend meeting or rally if workers put up a lot of banners to advertise the event.
"I reiterate that DMK party cadres must avoid banners, flex, posters etcetera to advertise party-related events. Only one or two can be used with permission. Strict action will be taken against those who violate and I'll not participate in that event," Stalin told DMK workers in a stern warning. The DMK chief also accused the AIADMK government of negligence leading to the death of Subashree.
"Subashree has died due to negligence of the government, inefficient police officers. The illegal banners have taken yet another life. My deepest condolences to her family," Stalin tweeted. "How many more lives will be lost to the power-hungry and anarchist rule?" he added. Subashree was hit by a water tanker when a banner erected by the AIADMK party allegedly fell on her while she was riding a two-wheeler on Thursday.
Subashree was returning home from her office when the accident happened. Even though the Madras High Court had banned hoardings in public places, an AIADMK party official C Jayagopal had put up the banner at the centre of the busy Pallavaram-Thoraipakkam Radial Road. The banner had the images of Chief Minister K Palaniswami, Deputy Chief Minister O Panneerselvam, late Chief Minister J Jayalalithaa and others for a family wedding.
Panneersevlam had attended that wedding. According to the police, action has been initiated against the people who had installed the banner and have arrested the tanker driver for rash driving.