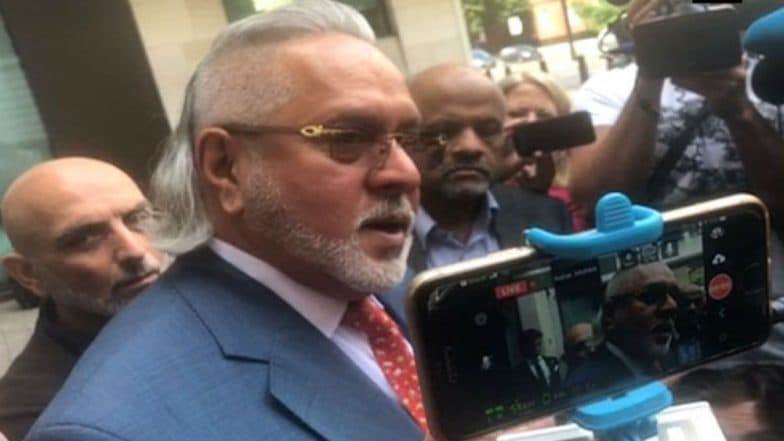 New Delhi, December 6: Fugitive businessman Vijay Mallya on Thursday questioned those linking his offer to repay 100 percent due to banks with the extradition of AgustaWestland middleman Christian Michel from Dubai. In a tweet, Mallya said that the two were not linked in any way and reiterated his offer stating that he wanted to get rid of being accused of having "stolen money". AgustaWestland Case: CBI Special Court Sends Christian Michel to Five-day CBI Custody.
"Respectfully to all commentators, I cannot understand how my extradition decision or the recent extradition from Dubai and my settlement offer are linked in any way. Wherever I am physically, my appeal is 'Please take the money'. I want to stop the narrative that I stole money," Mallya tweeted.
On Wednesday, Mallya took to Twitter and offered to repay 100 percent loan amount against his airline, Kingfisher. Mallya's offer to repay the loan amount came just days ahead of the United Kindom (UK) court's extradition hearing in London. Vijay Mallya to Repay 100% Loan Amount; Liquor Baron's Offer Comes Just Five days Ahead of His Extradition Hearing.
"Politicians and Media are constantly talking loudly about my being a defaulter who has run away with PSU Bank money. All this is false. Why don't I get fair treatment and the same loud noise about my comprehensive settlement offer before the Karnataka High Court. Sad," Mallya said in his earlier tweet.
"Airlines struggling financially partly becoz of high ATF prices. Kingfisher was a fab airline that faced the highest ever crude prices of $ 140/barrel. Losses mounted and that's where Banks money went.I have offered to repay 100 % of the Principal amount to them. Please take it," he added.
Mallya is also facing money-laundering charges in the United Kingdom after India initiated extradition proceedings against him. Both, ED along with Central Bureau of Investigation have filed several cases for alleged loan default against him. He collectively owes an amount of over Rs 9,000 crores to a total of 17 Indian banks.