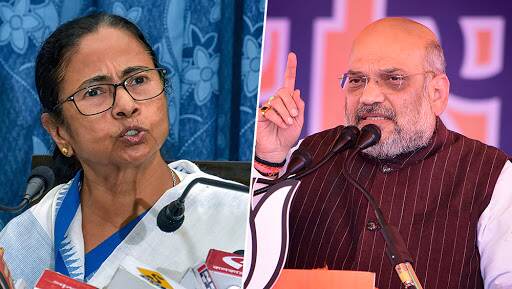 New Delhi, May 17: The political chaos over the poll violence in West Bengal during BJP chief Amit Shah's Rally in Kolkata took a new turn on Friday with Shah accusing the TMC supremo Mamata Banerjee responsible for it. Shah claimed that in last one and half years, 80 BJP workers have been killed.
Addressing a press conference after the campaigning ended for the last phase of Lok Sabha Elections 2019, Shah while answering a question said, "80 BJP workers have been killed in one and a half years. What does Mamata Banerjee have to say about this? If we were responsible for this, why violence didn't take place anywhere else?" PM Narendra Modi Addresses 1st Press Conference in 5 Years, Amit Shah Answers All Questions on His Behalf.
The BJP chief also applauded Election Commission's decision to curtail the poll timing above 20 hours, before the actual timing for it ends. Considering the rising violence in the state and political chaos.
Soon after the EC's decision, Mamata Banerjee hit out the poll conducting body, alleging it to biased towards BJP and working to directions of the ruling dispensation.