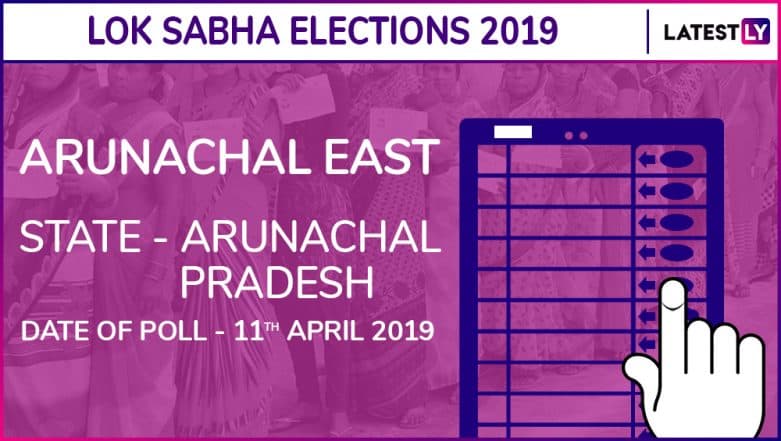 Arunachal East is one of the constituency in the lower house of Indian Parliament out of two constituencies in the Indian state of Andhra Pradesh. Here the election will be held on April 11, 2019, as per Phase 1 schedule designed by Election Commission of India. The constituency number of this seat is PC No. 2. This constituency covers the entire Upper Siang, East Siang, Dibang Valley, Lower Dibang Valley, Lohit, Anjaw, Changlang and Tirap districts. The results of the Arunachal East Lok Sabha Constituency will be declared today. The counting of votes began on the Parliamentary seat in Arunachal Pradesh at 8 am on Thursday, May 23. Voting took place for the Arunachal West seat in the first phase of Lok Sabha Elections 2019. A total voter turnout of 83.91 per cent was recorded, as per Election Commission of India. Stay with us for Live updates on the results for the Arunachal East Lok Sabha seat in Arunachal Pradesh. BJP Candidate Tapir Gao Elected MP. Lok Sabha Elections 2019 Schedule: Voting In 7 Phases From April 11 to May 19, Counting And Results On May 23; Check All Dates For General Elections
Bhartiya Janata Party (BJP) has nominated Shri Kiran Rijiju, while the Indian National Congress has chosen James Lowangcha Wangletto to compete for General Election, 2019. The Election Commission has declared March 25, 2019, as the last date of filing on nominations from the seats. Whereas the last date for withdrawal of candidature is March 28, 2019. Lok Sabha Elections 2019 Phase I: List of States And Constituencies Voting On April 11.
Lok Sabha Elections 2019 Phase 1: Schedule, States And Constituencies
In the last general election of 2014, Ninong Ering from Indian National Congress(INC) emerged victorious. The Congress candidate defeated Tapir Gao from Bhartiya Janata Party(BJP) by a margin of meagre 12,478 votes. Ninong Ering bagged total of 1,18,455 votes. The other party involved in this election was People's Party of Arunachal, where their candidate Wangman Lowangcha got 32,354 votes. The total turnout of voters were 2,61,291 in the last general election held at this constituency.
The General elections will be held from April 11, 19 to May 19, 19 throughout the country. The dates of polling are divided into 7 phases. The result of 17th Lok Sabha election will be out on May 23, 2019.