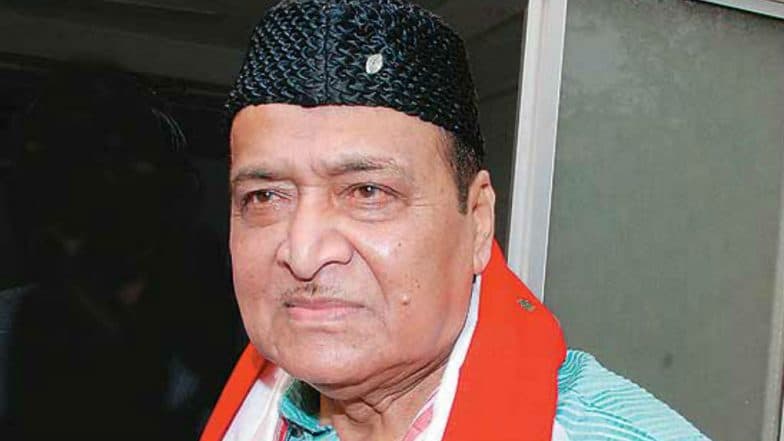 New Delhi, February 11: The kin of singer and cultural icon Bhupen Hazarika has declined the Bharat Ratna. The family has done so as a mark of protest against the Citizenship Amendment Bill, 2019. Bhupen Hazarika was awarded the Bharat Ratna, India's highest national civilian honour, along with former President Pranab Mukherjee, and Bharatiya Jana Sangh leader Nanaji Deshmukh (posthumously) on January 25, 2019, a day before the 70th Republic Day. Bhupen Hazarika Honoured With Bharat Ratna Posthumously: All About The Singer, Songwriter, Folk Artist, Cultural Icon and 'Voice of NorthEast'.
The contentious Citizenship Amendment Bill has created a furore in the north-eastern states, especially in Mizoram. The Bill was passed by the Lok Sabha on January 8 and has been awaiting the Rajya Sabha nod. Shutdown in Nagaland Over Citizenship Bill, Vehicular Traffic Suspended.
Indigenous people of the region are afraid that identity would be lost if the Bill was enacted. The civil societies are apprehending that the Bill would endanger the very existence of the sons of the soil — Mizos — as citizenship to around 1 lakh Buddhist Chakmas from Bangladesh would be granted.  Citizenship Amendment Bill: Mizoram, Manipur and Assam Students Boycott Republic Day Celebrations, Burn Effigies of Narendra Modi, Rajnath Singh.
Meanwhile, all the political parties, including the ruling Mizo National Front (MNF) and even the state BJP unit have expressed opposition to the proposed legislation. MNF leader and Chief Minister Zoramthanga has said that the ruling party would not hesitate to snap ties with the National Democratic Alliance (NDA) and BJP-led North East Democratic Alliance (NEDA) if the Bill is passed. State BJP chief John V Hluna also warned that the state unit of the saffron party would be dissolved if the central leadership goes ahead with the proposed amendment.
Bhupen Hazarika, a legend from the field of arts and cinema passed away in the year 2011 and was a remarkable singer, songwriter, folk artist and a cultural icon, whose passing away was mourned by millions. He was also a scholar and a social activist, who kept striving for the people and tribals of Assam. Pranab Mukherjee To be Conferred With Bharat Ratna Along With Nanaji Deshmukh and Dr Bhupen Hazarika.
Bhupen Hazarika was born on September 8, 1926 and passed away on November 5, 2011 was an Indian playback singer, lyricist, musician, singer, poet and film-maker from Assam, widely known as Sudhakantha. His songs, written and sung mainly in the Assamese language by himself, are marked by humanity and universal brotherhood and have been translated and sung in many languages, most notably in Bengali and Hindi.