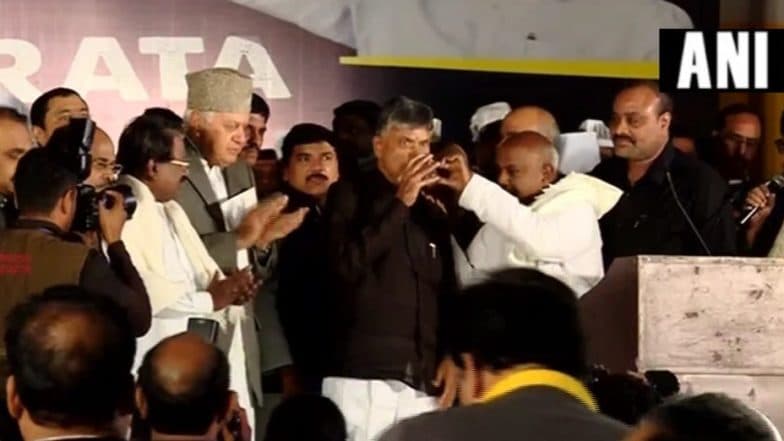 New Delhi, February 11: Andhra Pradesh CM and TDP Chief N Chandrababu Naidu ended his day-long fast at Andhra Pradesh Bhawan in the national capital on Monday and stated the demand for special status would continue on Tuesday, with the 11-member delegation would meet president Ram Nath Kovind. Adding on, Naidu accused Prime Minister Narendra Modi of being vindictive and is inefficient to rule the country.
Earlier in the day, Naidu began a day-long hunger strike at 'Dharma Porata Deeksha' in New Delhi and raised the long pending demand of special status. He was accompanied by leaders of opposition parties including – Dr Manmohan Singh (former PM), Ghulam Nabi Azad (Congress), Mulayam Singh Yadav (SP), Sharad Pawar (NCP), Arvind Kejriwal (AAP), Derek O'Brien (TMC), Farooq Abdullah (NC) and T Siva (DMK). Even ruling party's ally leader Sanjay Raut (Shiv Sena) joined Naidu's protest. Disgruntled BJP MP Shatrughan Sinha and former BJP leader Yashwant Sinha also made their presence felt. Differently-Abled Andhra Man Commits Suicide at the Venue of Chandrababu Naidu's Hunger Strike, Leaves 2-Page Suicide Note.
During the entire-day fast, Naidu addressed the gathering a number to times and accused the Narendra Modi government of being "vindictive" and "inefficient and unfit" to rule the country. Naidu said, "Modi is acting shamelessly and egotistically. He is thinking of winning the elections by colluding with some parties. Modi is unfit to rule the country. He is inefficient. Rulers should keep in mind the aspirations of the people."
Stating the reason for the fast, the TDP chief said he came to Delhi to explain to the nation the "injustice" done by the Centre to Andhra Pradesh. Attacking PM Modi, he said, "Yesterday, Modi went to Guntur and slammed me but did not announce anything for Andhra Pradesh. The BJP will be washed out in Andhra Pradesh forever. The BJP is dividing the nation. We are here for uniting the nation. We are here to explain to the nation the injustice done by the Centre to Andhra Pradesh. We are also part of this country. Our aspiration must be fulfilled. We will take the help of all parties and achieve our target."
It is to be known that the Andhra Pradesh is expected to go for polls along with Lok Sabha Elections, scheduled in the months of April-May. Also, the TDP parted its ways from ruling BJP in March 2018 after their demand of special status remained unfilled by the Union government.