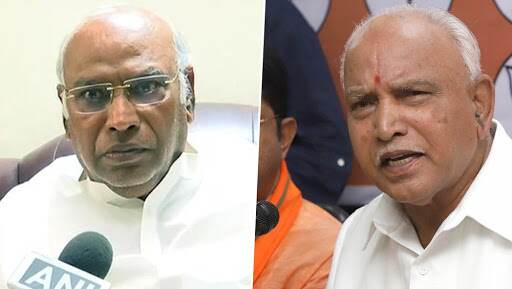 Bengaluru, July 7: With the political crisis in Karnataka gaining momentum and 14 legislators of the ruling alliance submitted their resignation at the Speaker's office on Saturday, senior Congress leader Mallikarjun Kharge called hoped that everything will become normal again. He also stated that he wants the alliance in the state to continue.
Speaking to the reporters in Bengaluru on Sunday, Kharge said as quoted by ANI, "I don't know. I want this alliance govt to continue. We want that this should go on smoothly. These are all flimsy information being fed to the press just to divide us." Karnataka Govt Crisis: 'Yeddyurappa to be Next CM if BJP Comes to Power', Says Sadananda Gowda as Congress-JD(S) Struggle to Pacify Rebels
On being asked about the decision of senior Congress leaders like Ramalinga Reddy submitting his resignation, Kharge said, "Ramalinga Reddy Ji is a senior leader and a Congressman. For long he has been holding Congress's fort in Bengaluru. Let us see what are his grievances and what we can do."
Commenting on the political chaos in the state, BS Yeddyurappa of BJP said, "I am going to Tumkur and I will come back at 4 pm. You know about the political developments. Let's wait and see. I don't want to answer to what HD Kumaraswamy and Siddaramaiah say. I am nowhere related to this."
It is to be known that over a dozen legislators from the ruling camp resigned on Saturday to the secretary as the Speaker was not in the office at that time. In Karnataka, BJP has 104 MLAs, but a coalition of Congress (78) and JDS (37) have formed the government in 224-member state Assembly. For the majority, a party or coalition needs 113 seats.