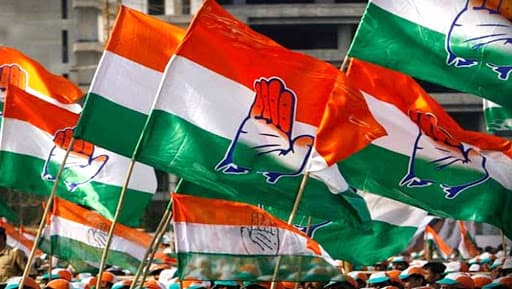 New Delhi, March 17: Congress party on Saturday released their fourth list of 27 candidates for the upcoming Lok Sabha Elections. In the latest list, Congress had listed 12 candidates for Kerala, seven for Uttar Pradesh, five for Chhattisgarh, two for Arunachal Pradesh and one for Andaman and Nicobar Islands. In the previous list, Congress had announced the names of 18 candidates.
According to the press release, published on Congress's official Twitter page, Congress has fielded sitting parliamentarian from Thiruvananthapuram in Kerala, Shashi Tharoor, would be contesting again, while Nabam Tuki has been selected to represent Arunachal West constituency. Deepak Baij has been given the ticket for Bastar (ST) seat in Chhattisgarh, while Harendra Malik will represent Kairana seat in Uttar Pradesh. Lok Sabha Elections 2019 Schedule: Voting In 7 Phases From April 11 to May 19, Counting And Results On May 23; Check All Dates For General Elections.
The Congress Central Election Committee announces the fourth list of candidates for the ensuing elections to the Lok Sabha. pic.twitter.com/yaRNLtdbPt

— Congress (@INCIndia) March 16, 2019
Here's the Full Released List:
Congress Fourth List for Lok Sabha Elections 2019
Sl No 
State
PC no. 
Constinuency 
Candidate
1
Arunachal Pradesh
1
Arunachal West
Nabam Tuki
2
Arunachal Pradesh
2
Arunachal East
James Lowangcha Wnaglet
3
A & N Islands
1
A & N Islands
Kuldeep Singh Sharma
4
Chhattisgarh
1
Surguja-ST
Khel Sai Singh
5
Chhattisgarh
2
Raigarh-ST
Laljeet Singh Rathia
6
Chhattisgarh
3
Jangir-Champa-SC
Ravi Bhardwaj
7
Chhattisgarh
10
Bastar-ST
Deepak Baij
8
Chhattisgarh
11
Kanker-ST
Biresh Thakur
9
Kerala
1
Kasargod
Rajmohan Unnithan
10
Kerala
2
Kannur
K Sudhakaran
11
Kerala
5
Kozhikode
MK Raghavan
12
Kerala
8
Palakkad
VK Sreekantan
13
Kerala
9
Alathur-SC
Remya Haridas
14
Kerala
10
Thrissur
TN Prathapan
15
Kerala
11
Chalakudy
Benny Bahanan
16
Kerala
12
Ernakulum
Hibi Eden
17
Kerala
13
Idukki
Dean Kuriakose
18
Kerala
16
Mavelikkara-SC
Kodikunnil Suresh
19
Kerala
17
Pathanamthitta
Anto Anthony
20
Kerala
20
Thiruvananthapurum
Shashi Tharoor
21
Uttar Pradesh
2
Kairana
Harender Malik
22
Uttar Pradesh
4
Bijnor
Indira Bhatti
23
Uttar Pradesh
10
Meerut
Dr Om Prakash Sharma
24
Uttar Pradesh
13
Gautam Budha Nagar
Dr Arvind Singh Chauhan
25
Uttar Pradesh
15
Aligarh
Ch. Brijender Singh
26
Uttar Pradesh
47
Hamirpur
Pritam Lodhi
27
Uttar Pradesh
70
Ghosi
Bal Krishna Chauhan
The election dates were announced on March 10, where Chief Election Commissioner Sunil Arora had said that the poll body visited several states to check election preparedness across the country. A total of 900 million voters have been registered in 2019 as compared to 814.5 million in 2014. In Lok Sabha Elections 2014, the Bharatiya Janata Party (BJP) had won an absolute majority with 282 seats while the Congress had won 44 seats.