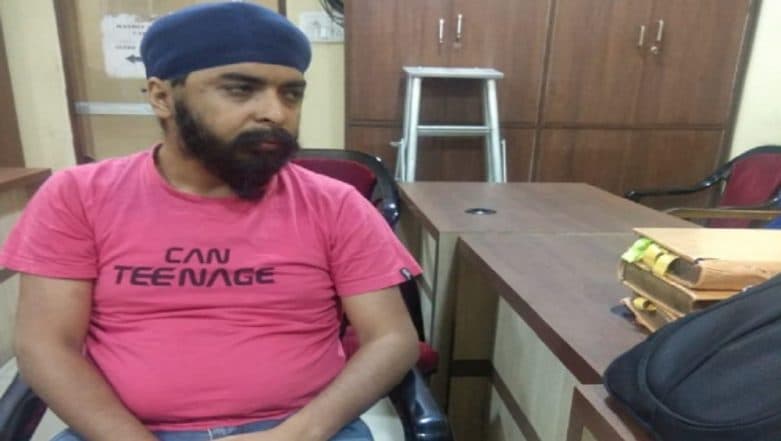 New Delhi, May 15: Delhi BJP spokesperson Tajinder Singh Bagga is among the scores of BJP workers arrested by the West Bengal police following ruckus and violence at Amit Shah's roadshow in Kolkata. A picture has been released on social media showing Bagga sitting inside a police station in the Bengal capital.
Over 100 political workers, including both from the BJP and Trinamool Congress camp, were detained in Kolkata last night. The police had launched a lathi-charge after clashes broke out between workers of the two rival camps. Amit Shah's Kolkata Rally Ends in Violence; TMC, BJP Workers Injured in Police Lathi-Charge
Kolkata Police Commission Rajesh Kumar, while speaking to reporters, said an attempt was being made to vitiate the state of peace, law and order in the city. "We will take stern action against all those who are responsible," he added.
The clashes erupted post sunset outside the University of Calcutta's College Street Campus and Vidyasagar College on Bidhanai Saranai. Dozens were left injured in the violence. The statue of social reformer Ishwar Chandra Vidyasagar was also vandalised in the clashes.
While the TMC students' wing has blamed "BJP workers from outside" of stoking the tensions by pelting stones and throwing acid bottles, the saffron camp has accused the Trinamool cadres of resorting to violence after witnessing the "mass turnout" at Shah's roadshow.
The CPI(M) has blamed both the Trinamool and BJP of plunging Kolkata into the politics of violence. "By this ugly show in the capital of Bengal, do BJP and TMC think they will win support? It is an act of desperation where they have both revealed their destructive and unacceptable agenda for Bengal," said party general secretary Sitaram Yechury.