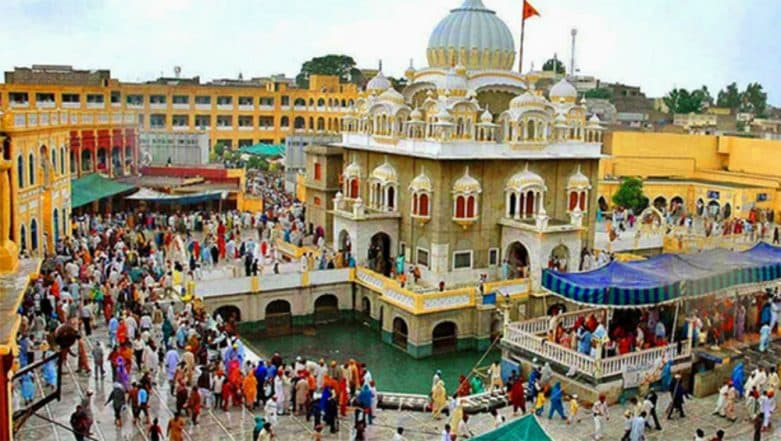 Nankana Sahib, April 16: India lodged a fresh protest with Pakistan over its diplomats not being allowed to meet Sikh pilgrims at Nankana Sahib gurudwara on Monday. In its protest to the Pakistan foreign ministry, India alleged Pakistan for not following the code of conduct of 1992, which was recently reaffirmed by both the nations.
According to a report published in Hindustan Times, An official in Delhi said, "Not letting the consular officials meet the pilgrims is against the agreed understanding between the two countries. Our team of officials was given not permission to meet the pilgrims and they were given no explanation."
In Ministry of External Affairs in a statement said, "India has lodged a strong protest with Pakistan against this inexplicable diplomatic discourtesy, pointing out that these incidents constitute a clear violation of the Vienna Convention of 1961, the bilateral Protocol to visit Religious Shrines, 1974 and the Code of Conduct (for the treatment of diplomatic/consular personnel in India and Pakistan) of 1992, recently reaffirmed by both countries."
The Pakistan High Commission has not given any response. This is the second protest lodged by India in two day. According to External Affairs Ministry. On Sunday also India lodged a protest with Pakistan on Sunday for not allowing its high commissioner and diplomats meet Sikh pilgrims from India, even as the two nations recently agreed to improve relations.
Islamabad however accused New Delhi of impairing environment of bilateral relations between the two countries. A group of around 1800 Sikh pilgrims travelled to Pakistan on April 12 on the occasion of Baisakhi to visit Sikh Shrines in Pakistan. Both the countries had signed a bilateral agreement in 1974 that allows citizens of the two nations to make pilgrimages in each other's territories. In March, Pakistan protested after India refused to grant visas to more than 500 Pakistani pilgrims to attend an annual religious congregation marking the death anniversary of Hazrat Khawaja Moinuddin Chishti in Ajmer Sharif, reported The Times of India. New Delhi on Sunday had termed the Pakistani action a violation of the Vienna Convention.
Nankana Sahib is a holy city of the Sikhs. It is the capital of the Nankana Sahib district in Pakistan's Punjab province. The city was named after the first Guru of the Sikhs, Guru Nanak. who was born in the city.