It is Happy New Year 2019 and everyone who is looking for perfect text messages, wishes, quotes, images and greetings to send their family and friends, we have got you covered. After celebrating the New Year's Eve bash on December 31st, it is time to exchange greetings with those who are far and away at the moment. Everyone around the world welcomed New Year 2019 in hopes of new beginnings with great enthusiasm and gusto. To help you celebrate the New Year 2019, we have compiled a list of Happy New Year 2019 quotes, wishes messages, greetings that you can share along with WhatsApp stickers, Hike stickers, Facebook photos and GIF images. Share the joy of this holiday season with these beautiful and heartfelt messages and quotes and help them mark the new beginnings with a big smile. Happy and Prosperous New Year 2019 Wishes: WhatsApp & Hike Stickers, GIF Image Messages, SMS, Facebook Greetings to Wish on the First Day of HNY!
End 2018 with gratitude in your heart for all the learning and experiences that contributed in your growth. On New Year eve, there will be fireworks everywhere, glasses will be raised and hugs full of warmth will be exchanged. Begin 2019 along with your loved ones by your side and cherish the moments you created in 2018 and hope for a better new year. Start a new chapter of your life and fulfil all your goals and aspirations that were not achieved in 2018. Spread hope and blessings by sharing these greetings with your close people who are not with you on the New Year. These wishes will surely rekindle new spirits among people. New Year 2019 Images & HD Wallpapers for Free Download Online: Wish Happy New Year 2019 With Beautiful GIF Greetings & WhatsApp Sticker Messages.
New Year 2019 Wishes and Messages
Happy New Year!
WhatsApp Message Reads: Every Year Leaves a Trace, Something is Given, and Something is Taken Away, I wish You Bright Days & Joyful Thoughts. Happy New Year 2019!
Happy New Year 2019!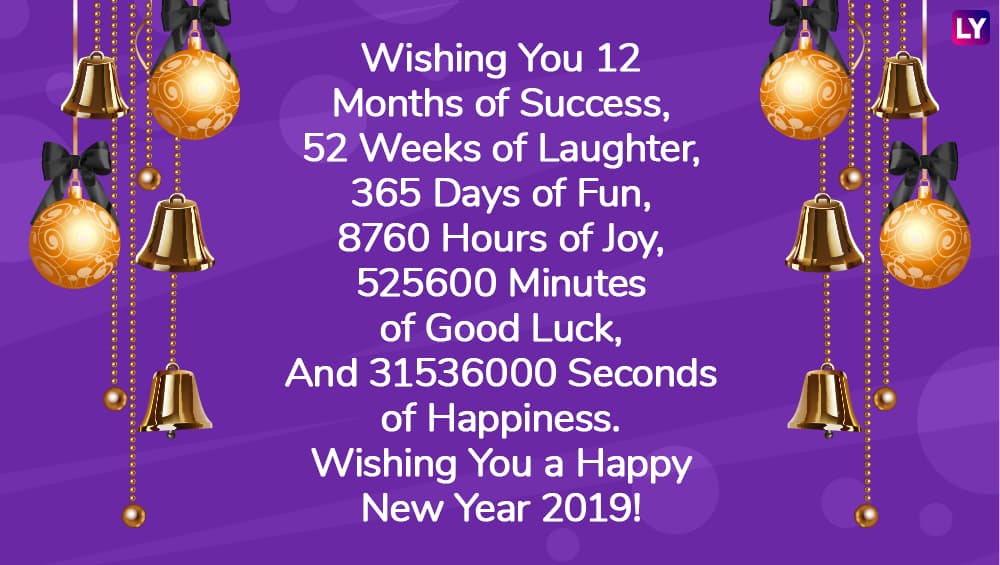 WhatsApp Message Reads:  Wishing You 12 Months of Success, 52 Weeks of Laughter, 365 Days of Fun, 8760 Hours of Joy, 525600 Minutes of Good Luck, And 31536000 Seconds of Happiness. Wishing You a Happy New Year 2019!
A Prosperous New Year 2019!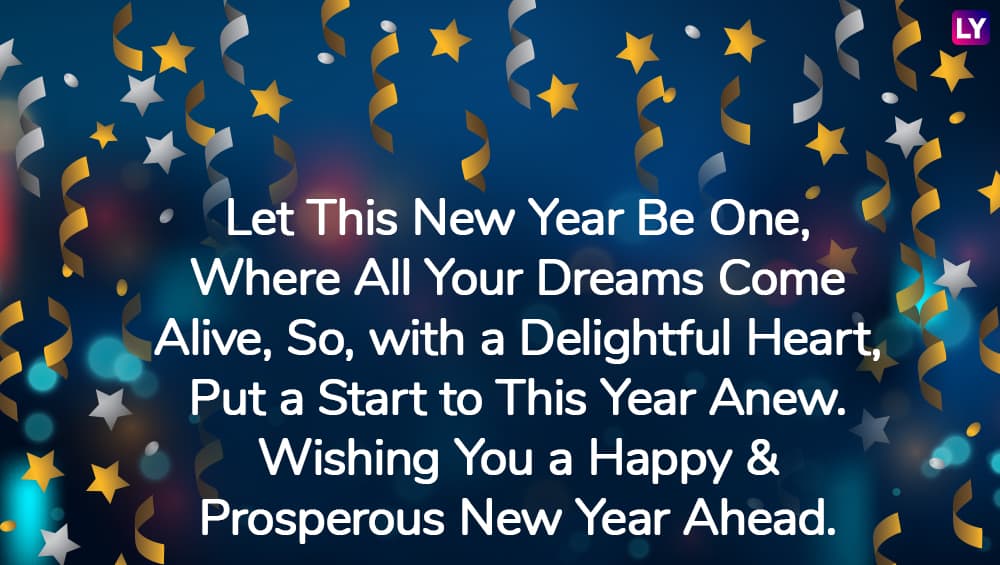 WhatsApp Message Reads: Let This New Year Be One, Where All Your Dreams Come Alive, So, with a Delightful Heart, Put a Start to This Year Anew. Wishing You a Happy & Prosperous New Year Ahead.
Wishing You a Happy New Year!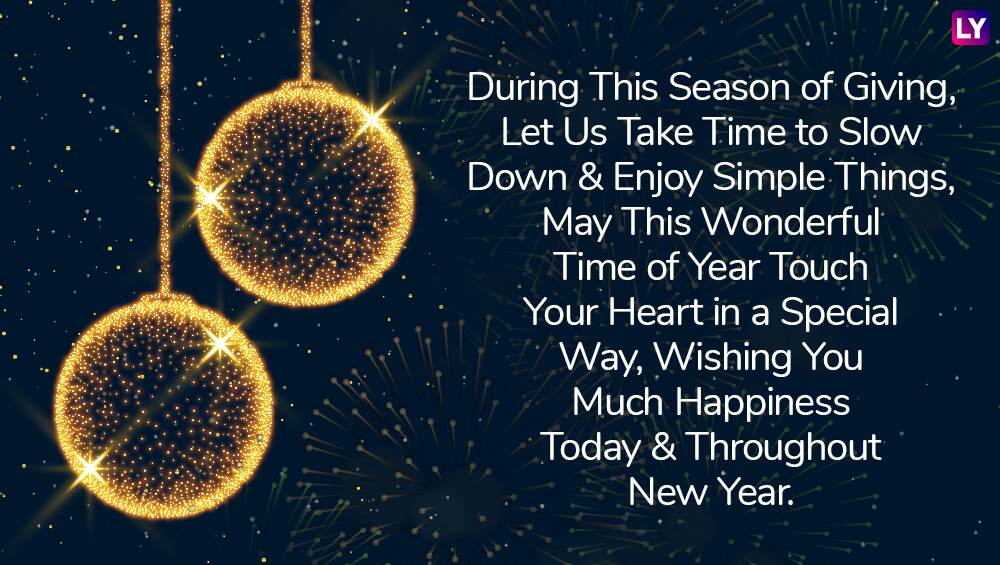 WhatsApp Message Reads: During This Season of Giving, Let Us Take Time to Slow Down & Enjoy Simple Things, May This Wonderful Time of Year Touch Your Heart in a Special Way, Wishing You Much Happiness Today & Throughout New Year.
Have a Joyful Happy New Year 2019!
WhatsApp Message Reads: In Your Life, May There Always Be Love and Laughter in the Air, Someone Wonderful to Pair, Warm Kisses and Life to Share, And You're Always in Top Gear. Happy New Year 2019!
GIF Images
New Year is the only festival in the world that is not based on any caste, religion or creed. It is the perfect occasion to forgive people and start afresh. Celebrate the good things in life and appreciate the by gone 2018. With new year comes new hope and new light. Take this opportunity to bring smile on the faces of your loved ones and cherish their presence in your life. Be the reason for someone's happiness today and throughout the year. From us to you, we wish you a happy and a prosperous New Year 2019.