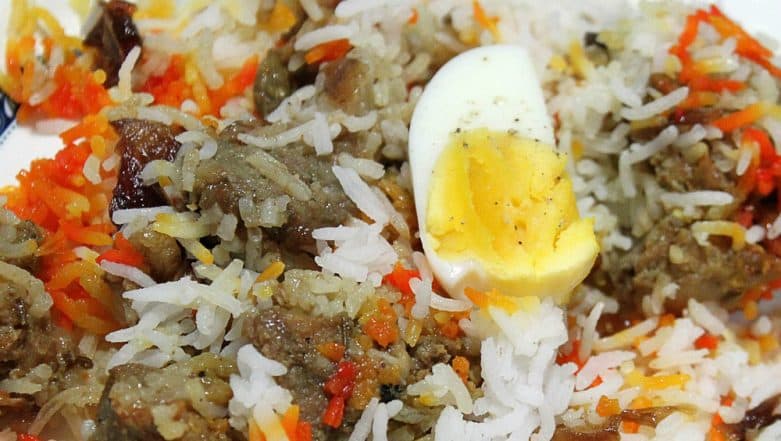 Vadakkampatti, February 25: If you are a biryani fan and want to have it for free, then welcome to Vadakkampatti, a village in Thirumangalam taluka of Tamil Nadu's Madurai district, which hosts an unusual annual temple festival. Every year, the village hosts a three-day festival at the Muniyandi Swami temple, where, the mutton biryani is served as prasadam. Tonnes of rice and mutton are cooked by villagers. The locals believe that diety Lord Muniyandi is a big fan of biryani. Chicken Biryani Beats Pizza to Become the Most Ordered Food!
According to the Times of India report, the hotelier community celebrates this festival to thank their diety. Notably, most of the hoteliers have even named their hotels as Muniyandi Vilas. The first restaurant chain was started by SVS Subba Naidu in Karaikudi and his inspiration came from the popular festival. Paradise Biryani Makes a World Record! Restaurant Chain Enters 'The Limca Book of Records 2019' for Selling 70,44,289 Servings Of Delicious Flavoured Rice.
According to TOI, there are around 1,500 Muniyandi Vilas hotels in Sound India. To collect money for the festival, all restaurants keep aside money collected from the first customer. "The festival is the time to give back to society. All hoteliers from the community contribute money for the festival', said NP Ramasamy to TOI.
Earlier, Reddiar and Naidu community jointed hosted the festival till the 1970s, but a dispute between them has led both the community celebrate separately. This year, over 8,000 devotees took part in temple festival. Over 100 goats and 600 roosters were sacrificed for making for prasadam.