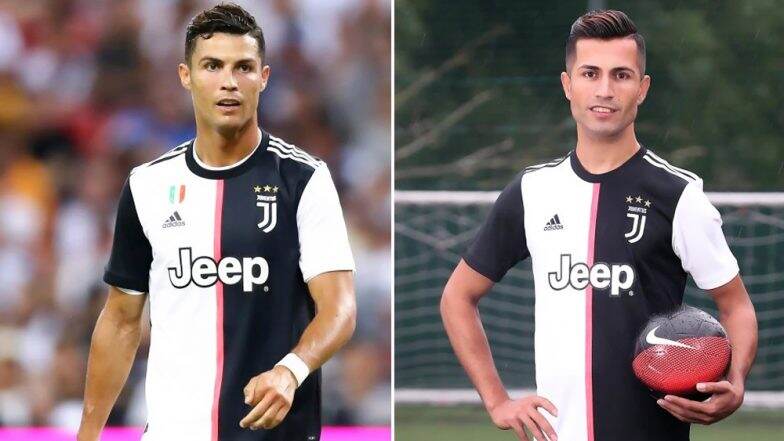 You don't have to be a footballer to be famous. Just be a Cristiano Ronaldo lookalike and the world will still run after you. Ask Biwar Abdullah, a former construction worker from Iraq. Biwar is a Cristiano superfan and has been following the Portuguese superstar ever since his Sporting Lisbon days. Ronaldo began his career with Sporting CP before signing for Manchester United and beginning the CR7 era. But Biwar didn't know Ronaldo would be one of the world's greatest footballer one day. He was a Ronaldo lookalike and that was enough for Biwar. Cristiano Ronaldo Mobbed By Fans in Villar Perosa, Juventus Football Star Escorted Away Following Pitch Invasion.
"I am Kurdish, from northern Iraq," he told The Sun, a British Tabloid. Biwar left Iran for England at the age of 25, seeking a better life. He was already a celebrity back home for being a Ronaldo lookalike. "When I am at home I get a lot of attention, people stop me in the street and they ask for pictures, I don't mind it, I always stop for people. Most think I am Ronaldo straight away, it's a nice feeling, I wish I had half the skill he does," added the Ronaldo superfan.
Cristiano Ronaldo Lookalike
ICYMI: 25-year-old Biwar Abdullah is popular in northern Iraq due to his striking resemblance to Portugal's soccer captain Cristiano Ronaldo pic.twitter.com/BzhefV8eDD

— Reuters Top News (@Reuters) April 14, 2019
Biwar was already a local celebrity in Iraq but in England, he was first spotted by Shane Douglas, a shop owner from Derby. Douglas noticed Biwar for the first time when the Iranian was walking past his shop wearing a Juventus shirt. "He caught my eye, I thought it was Ronaldo at first and ran out.
Biwar Abdullah is a Local Celebrity
A Cristiano Ronaldo look-alike grabs attention in northern Iraq, thanks to the resemblance he has with one of the world's famous soccer stars. Biwar Abdullah, 25, is a celebrity in his hometown of Soran, a city 110 km away from Irbil, where he often stops to pose for selfies. pic.twitter.com/bwvDlpVCfi

— The Voice of America (@VOANews) April 8, 2019
"At the time, I had a copy of Fifa 19 in my hand, which has Ronaldo as the cover star - I looked at it and compared it with Biwar, I couldn't believe the resemblance. I stopped him and said he looks exactly like him and that with the right help and contacts there could be future in this for him, I just can't believe no one has thought to help him before.
"He told me people have already noticed him walking around town and he gets shouts of Ronaldo wherever he goes. It helps that he is such a fan and loves football, so when people see him - he's often in his favourite Juventus shirt which makes him look even more like his idol," Shane added.
Biwar is not a professional footballer and doesn't even plan to become one. But he still occasionally dabbles in football. And whenever Biwar – now a regular manual labourer – takes the field, he plays in the same position as Ronaldo. He also doesn't support a team but one player: Cristiano Ronaldo.
From changing his hairstyle regularly to match Ronaldo's to buying clothes the football superstar wears, Biwar does everything to keep himself updated and be in trend. "My dream is to one day meet him," he signed off.