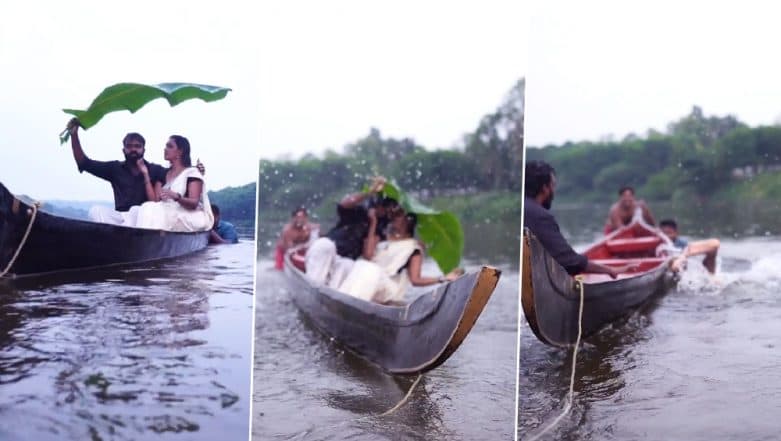 Pre-wedding shoots have almost become an important element of every millennial couple's marriage. In a similar setting, a Kerala couple was posing for photos sitting on the canoe when it toppled into the water. And now the video of the incident has gone viral on social media. The clip shows the couple dressed in the traditional attire of Kerala sitting on a small boat. The photographer can be heard giving directions to them about how to pose. Around four men standing around them in the river sprinkle water on them. The photographer then tells the couple to kiss as soon as they lean towards each other, they fall into the water. Wedding Photographer Climbs on Tree, Hangs Upside-down to Get The Right Shot of Newly Married (Watch Video)
While it looks like a funny accident, Bincy Nirmalan, from photography studio Weddplanners, told The Indian Express that it was planned. He was quoted as saying, "To be frank that did not happen haphazardly, our team had pre-planned it without letting it be known to the couple. We wanted to shoot something funny for our personal website, and the couple had invited us only for a normal shoot." However, the couple wasn't aware of the plan and thought it was just a photoshoot. Nirmalan added saying, "The couple kept laughing after their fall believing it was an accident. We revealed it to them after the shoot, and they said that they really enjoyed it."
Watch the video below:
Check out the photos below:
Tijin Thankachen from Thiruvalla and Silpa from Changanacherry are to get married on May 6. And the photo shoot was being held along the banks of the Pamba river at Kadammanitta in Pathanamthitta district. While they had to toil a little, the final outcome looks amazing. The duo looks stunning in their romantic 'Save the date' photo. In the meanwhile, the couple and their families are enjoying the internet fame ahead of the marriage.