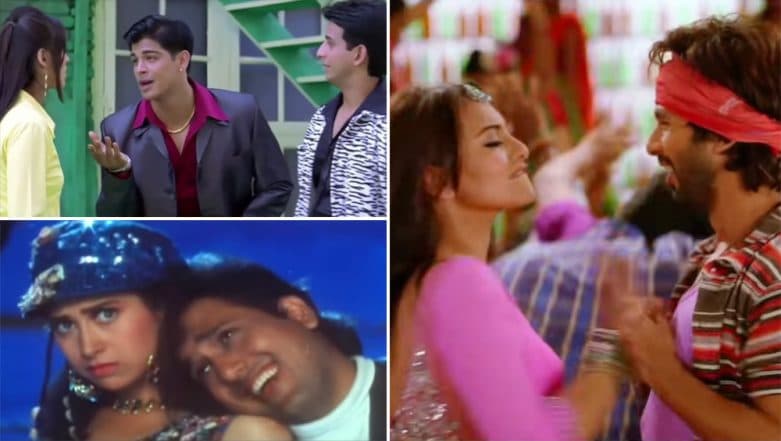 The season of love has begun with the month of February and also the beginning of the Valentine Week from Thursday, Rose day. After giving out roses as a sign of expressing love and friendship, the next day is Propose Day. Propose Day 2019 will be celebrated on February 8. It is a good chance to take the next step towards your loved own if you are confident about your feelings to ask them out. A proposal can be stressful but you can rely on Bollywood songs if you want to make it cheesy. But mind you, not all Bollywood romantic songs are good and well-written. As much as this entertainment industry has given us some really good, meaningful music, it also has it share of some bad songs. We give you a list of worst propose day songs, that you should most definitely sing or play around your loved one. Propose Day 2019: Most Romantic Proposal Ideas To Woo Your Love Interest This Valentine Week And Make Sure You Get a YES!
Some Bollywood songs can get repetitive with their promising lines but the lyrics of any song are important. Some writers have been really cheesy with their words and the entire song may sound good with the beats and background score, but meaning-wise it doesn't score. Instead of making a mistake by choosing the wrong songs to express your feelings, we give you a list of worst Bollywood songs, which you should avoid. Happy Promise Day: These are Some Evergreen Promise Songs You Could Dedicate To Your Partner.
Main Laila Laila Chillaunga (Anari No 1)
Laila and Majnu have been symbolic for forever lovers in literature and pop culture since years. But going out shouting out as Laila and Majnu to your lover that too by tearing your kurta? Bad idea! It was good back then when Govinda and Raveena grooved to it, but today there are chances you'll come across as a creepy exhibitionist.
Aa Re Pritam Pyaare (Rowdy Rathore)
The music, beats, choreography of this song has been on point but it is not a 'good' song to convey a proposal. It is a typical item song with shady lyrics that goes directly to the pallu and choli and that would be a really bad impression to put out in front of your partner.
Main Ladki Po Po Po (Hera Pheri)
Firstly, what is this song? I mean it doesn't have any sense but it is annoying because it is catchy! What is po po po? We will just say no no no!
Husn Hai Suhana (Coolie No 1)
Another popular Govinda song, which worked well back then but for a proposal, no! You cannot really ask your girl to steal your heart as the lyrics convey. You'd rather appreciate the person's beauty a lot more beautifully than 'aake deewane mujhe seene se laga!'
Excuse Me (Style)
Going about telling a girl to accept you because you have instantly fallen for her, is not the way to go about conveying your feelings. This song is much a stalker anthem, to say the least. So please, excuse it from your ideas.
Gandi Baat (R Rajkumar)
The song itself gives a forewarning with its name. It is a groovy song, we agree but you'd want your proposal to be all good and nice right? So stay away from any gandi baat, in songs and even otherwise.
Guys and girls, we understand that some of the above songs may be your favourites to groove. But we are just giving you a heads up, that playing or singing along those have fewer chances of you getting accepted. Bollywood has sure given us some of the best songs to express your love otherwise. We wish you luck this Propose Day!