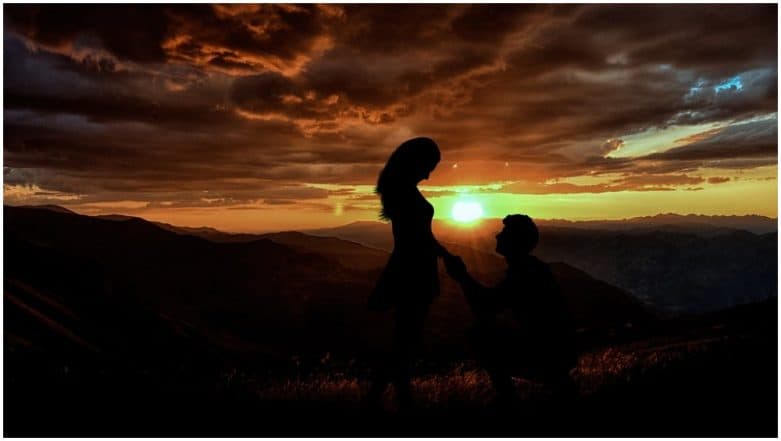 Couples are looking forward to celebrating Valentine week, which will begin on February 7 with Rose Day followed by Propose Day.  On Propose Day, those who haven't expressed their feelings to their crushes, finally get to tell them on this day. There are typical ways to propose, however, if you give your own spin to this romantic moment, your crush will remember the day for the rest of his or her life. If you have kept your feelings hidden in your heart so far, here are some ways to propose that are too awesome for your crush to say no to.
Foodie Marriage Proposal
If your crush is a foodie, take him/her to his/her favourite restaurant or make his/her favourite dish at home. If you choose a restaurant, ask the manager to bring the ring along with the order. If you are preparing food for him/her, decorate the tray and hide the ring. If your crush likes dessert, you can ask the pastry chef to write, "Will you be my Valentine?" in chocolate sauce around the rim of the plate.
Destination Marriage Proposal
If your crush loves to travel, plan a trip on the Propose Day. Talk to flight attendants before the journey begins and find out if you can use the loudspeaker system to propose him/her midair. If he/she loves beaches, spend quality time there before you express your feelings. If the two of you are already in a relationship and plan to take it to the next level, you can build a sandcastle and hide the ring in it. A trail surrounded by nature's beauty is also a perfect place to propose when you and your soon-to-be fiance walk together.
At-Home Proposal
Invite your crush home. Before he or she arrives, decorate your room with photo memories from your relationship and propose. If you plan on proposing marriage, try turning all the lights off in your apartment and leave a trail of candles that leads to the ring. If she agrees to stay that night, you can slip the ring on while your soon-to-be fiance is sleeping and then do a romantic morning wake-up call.
Techie Proposal
If your crush is a technology enthusiast, you can propose to them in a creative way to express your feelings. You can learn the basics of web designing in a few days and create a page on the internet to propose him/her. You can make it simple. Make a late night video call and tell him/her about your feelings. Another way is to send a voice clip. You can record his/her favourite song and then ask them to be your Valentine.
Public Proposal
It is the most common and traditional way to propose. Take your crush to a shopping mall or park or restaurant. Drop down on one knee and propose him/her for marriage.
Consent is important. So if he/she doesn't say "yes" or wants to take more time before committing, respect his/her decision. Get ready for the Propose Day on February 8 and express your feelings to your loved one. All the best!