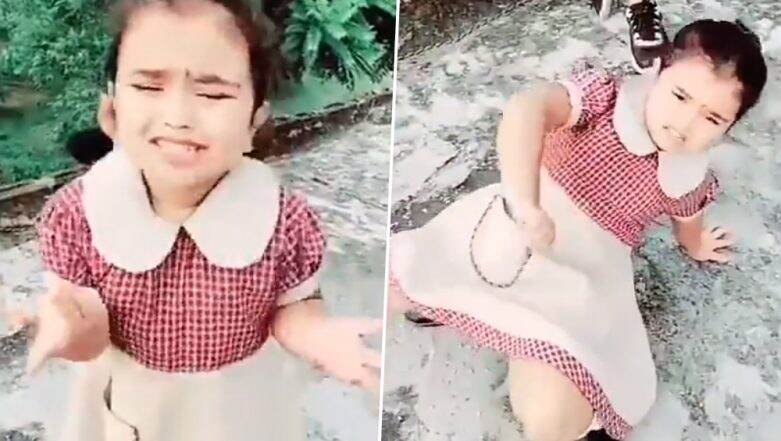 Watching kids dance gives immense pleasure and a sense of pride to most parents. We've all appreciated kids dancing on reality shows, but some people get offended by watching kids dance on screen. While some may have a point, some just get annoyed for no reason. One such viral video of a little girl dancing on Nora Fatehi's Saki Saki Re song is spurring debates all over the internet. This child has shown some crazy dance moves on the peppy Bollywood song, but while some say that she deserves a stage, some began to bash her parents for no reason. The viral video shows a girl clad in chequered frock dancing like no one's watching her. However, ever since the video has gone viral, the internet is completely divided. You'll have to watch the video and check out the reactions to understand what we are saying.
Watch Video:
This girl should be in DID in future for sure 😍😍😍😍

See the expressions on her face man I can't even dance normally even in barat 😭😭 😂😂 pic.twitter.com/1kOpj6vw9V

— Perry (@Peerry_platypus) September 10, 2019
She's Like Two Or Something?
So cute ❤️

I don't see any vulgarity. Kids, no matter what they do, always look cute :)

— MK (@chokwangun) September 11, 2019
What?!
Not a dance for small girls.

— Bahadur 2.0 (@my2bit) September 11, 2019
Can Somebody Explain This Elaborately?
I understand what you are saying. But listen to the lyrics and the dance steps. Not something you want such a small girl to emulate. Just saying. No doubt she is talented but if it were my daughter would encourage classical dancing. IMHO

— Bahadur 2.0 (@my2bit) September 11, 2019
Kyu?
इस बच्ची के मां बाप जो भी है, उन्हें उल्टा लटका कर सुताई करना चाहिए, और उनको भी जो ऐसे वीडियो बनाने की प्रेरणा देते है..... pic.twitter.com/vCXKnUD8cR

— Vikrant (@vikrantkumar) September 11, 2019
Really Don't Know What To Say
Putting makeup on children, sending them to reality shows, letting them watch serials and dramas, taking them along to theaters for Bollywood films- too many examples. Very bad parenting.
— Initnamees 🇮🇳 (@SeemantiniBose) September 11, 2019
That's Harsh
This is atrocious

Where are we headed?? Is this the age for her to dance so disgustingly? What kind of parents are those who are letting this happen? 😠

— Yashodha G (@yashshiningstar) September 11, 2019
So Many People Rooting For Classical?
This child acts like she is doing an item dance. Please teach her classical.

— Mini Pillai (@minipillai08) September 11, 2019
That Went Too Far
Fully agree these sense less parents must be behind bars.

— Deepak Bhatnagar (@bhatnagardeepak) September 11, 2019
Do you see? The reactions are mixed! While we really can't say anything, it is strange to see such a huge reaction to a little girl dancing. Well, it's really hard to say what her dance reflects about her parents, but the little one surely got some smooth moves!