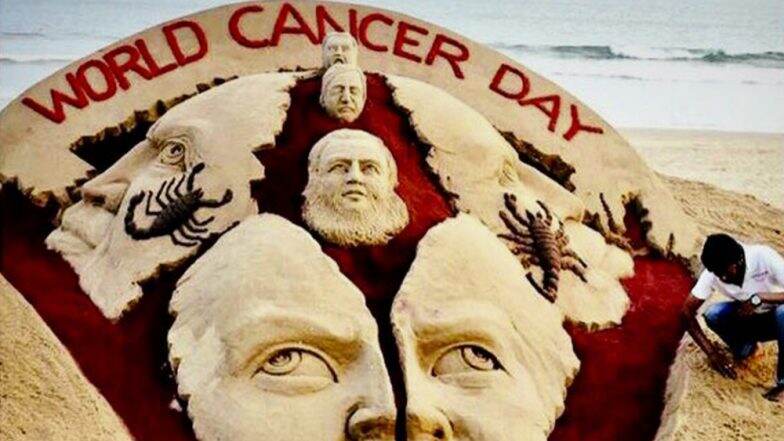 World Cancer Day is observed internationally on February 4 to raise awareness on the disease globally. International sand artist Sudarshan Pattnaik created a sand art at Odisha's Puri beach highlighting the illness. He shared a photo of the sand art on Twitter with the caption: 'Today is #WorldCancerDay⁠ ⁠One of My SandArt at Puri beach in Odisha. #LetsBeatCancer #IAmAndIWill'.
The Union for International Cancer Control (UICC) founded World Cancer Day to support the goals of the World Cancer Declaration of 2008. The goal of World Cancer Day is to reduce the illness and death caused by cancer. The day also aims at ending injustice faced by those suffering from cancer and reduce taboos, misinformation and stigma around it. UICC that organises World Cancer Day events have launched a new three-year campaign with the theme: 'I Am and I Will.'
Check out  Sudarshan Pattnaik's sand art on World Cancer Day:
Today is #WorldCancerDay⁠ ⁠One of My SandArt at puri beach in Odisha . #LetsBeatCancer #IAmAndIWill⁠ ⁠.@uicc @WHO @IARCWHO pic.twitter.com/N9vuZYc9DG

— Sudarsan Pattnaik (@sudarsansand) February 4, 2019
There are various ways in which the chances of cancer can be reduced in an individual. UICC promotes a healthy lifestyle that brings considerable changes in one's way of life. One can also choose to support cancer patients and help them with physical and emotional support. It says initiatives should begin at home and schools to help people understand the importance of a healthy lifestyle.
Schools should also help and reduce stigma towards cancer patients and end discrimination against them. Decision-makers and influencers in the society should take step towards educating people against taboos related to the illness. Sudarsan Pattnaik often makes sand arts on important things happening in and around the country. From social issues, social reformers, international observances, the sand artist regularly creates sand art on Puri beach.