South Africa's AB de Villiers is undoubtedly has a very large fan following in India, owing to the fact that he plays for Royal Challengers Bangalore in the Indian Premier League. But even the favourites get on to the wrong side of the public. This is what happened with the South African cricketer. So, AB while promoting a wine brand, used the Indian flag.
"Exciting times! A taste of our very own wines in Incredible India. If u get your hands on a bottle please let us know what u think @firstxiwines," read the caption of the picture with the Indian tricolour used below.  Now, the usage of the Indian flag did not go down well with the Indian netizens and they slammed him for the same.
Check out a few comments below: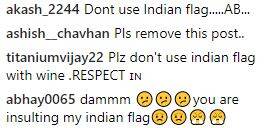 Here are another set of comments. Clearly, the Indian's have got offended with the usage of the Indian flag.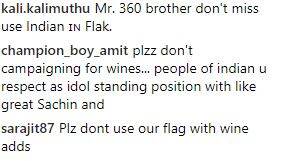 The 34-year-old recently announced his retirement from international cricket. However, he revealed that he that he will continue playing the IPL for a few years. "I will keep on playing IPL for a few years, and I would like to play for the Titans, and help some of the youngsters. But there are no set plans. I haven't been able to say that for a long time," he told iol.co.za.
De Villiers played 114 test matches and 228 ODIs and made 9577 runs. He also played 78 T20 matches and even got a century in Bengaluru. He scored 1672 runs in 78 matches.