Huawei, a popular Chinese smartphone Maker sent out 'New Year 2019' wishes via official Twitter handle by using Apple iPhone. And several social media users noticed that Huawei's New Year Tweet was sent from an iPhone. Though the company deleted the tweet immediately, the screenshots of the same went viral as the fact that Android Phone makers are caught using iPhones. Post the blunder, the Chinese phone maker has decided to take things to a different level by punishing the two employees responsible for tweet via iPhone. Boycott Apple iPhones or Face Consequences Says Chinese Companies; Offers To Drive Purchase of Huawei Devices.
According to the memo obtained by Reuters, Huawei has slammed the employees by demoting them and reducing their pay as the incident has brought damage to company's brand, said VP Chen Lifang.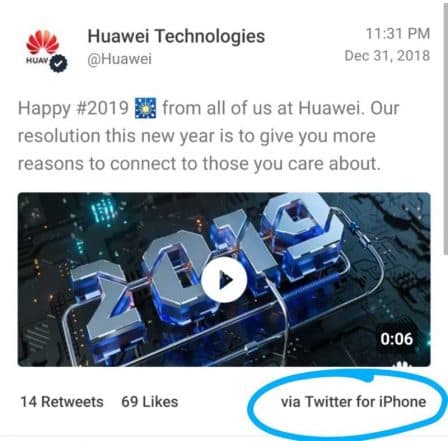 Huawei said in a memo that, "The mistake occurred when outsourced social media handler Sapient experienced "VPN problems" with a desktop computer so used an iPhone with a roaming SIM card to send the message on time at midnight." Huawei Records All-Time Shipments of Over 200 Million Units in 2018 - Report.
Even though the company claims that the tweet was sent via outsourced social media handle, the Chinese smartphone maker is also blaming its management as well. Highlighting this blunder internally, the company said that this mistake showed procedural in compliance and management oversight.
Taking action against this blunder, Huawei demoted their employees by one rank and slashed their monthly salaries by more than $700 which is approximately 5000 yuan. Moreover, the company also stated that digital marketing director would also have their pay rank frozen for twelve months.
Previously, we reported that Huawei had asked its employees to stop using Apple iPhones or they will have to face the consequences. The Chinese smartphone maker is not the first Android device manufacturer that has been caught using Twitter on iPhone. In a recent incident, Samsung became the newest victim of the same as a brand ambassador was seen using Apple iPhone X. However, the South Korean tech giant later sued the brand ambassador for $1.6 million.