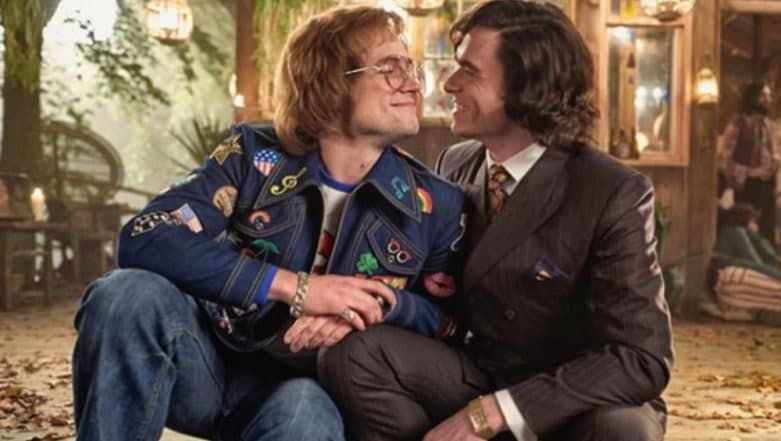 Elton John biopic titled Rocketman has been set for a May 16 world premiere at the Cannes Film Festival. Ever since we saw the trailer, the excitement for this film high. While the role of Elton John will be played Taron Egerton, Game of Thrones star Richard Madden who played the role of Robb Stark will also be seen in the film. Madden will be essaying the role of John Reid, the rebrand manager and former lover of Elton John. Undeniably, Richard Madden's vintage look in the film has been unrecognizable. In a new still shared by actor Taron Egerton, Taron and Madden dressed as their characters are seen sitting in a cosy pose. The picture is high on couple vibes and it has sent internet in a tizzy. Taron Egerton Rocks as Elton John in 'Rocketman' Trailer
The picture has Edgerton dressed in the infamous colorful attire of Elton John whereas Madden is seen suited up but with a hairstyle that's significant of the 70s. The movie is being hailed for its outright execution of gay romance and particularly, a sex scene between Madden and Egerton's characters has been in the news for quite long. This new picture has impressed fans who have come out in support of same-sex love and the comments section is flooded with comments such as, "Marry each other already why don't ya" and "So god damn close, just kiss already."
Take a look at the picture here:
While we are used to watching Madden play roles with an emotional touch with panache, his character of Reid is exactly opposite. It will be exciting to see him pull off the role of a manipulative manager. Speaking about his character, the actor in an interview with Elle mentioned, "He just loved fighting people."
Rocketman has been directed by Dexter Fletcher, who previously worked on the Academy Award Nominee Freddie Mercury biopic Bohemian Rhapsody after director Bryan Singer was fired. With a month left to go, it will be interesting if the biopic on this musical legend turns out to be more successful than Bohemian Rhapsody.