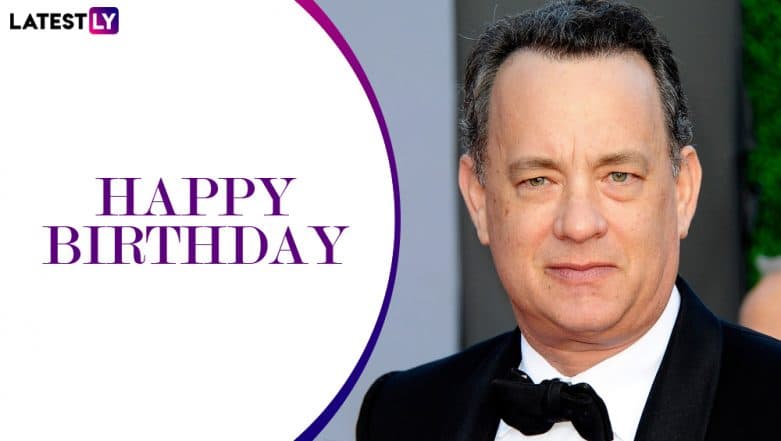 An actor who dominated Hollywood in the '90s and still does so everytime he stars in a film is Tom Hanks. Over the years, the actor has performed versatile roles and even managed to bag back-to back Oscars for the same in 1993 and 1994. In 1993's Philadelphia, Tom Hanks played a lawyer who gets fired from his job for being HIV positive. His second Oscar was for the widely popular film, Forrest Gump. Toy Story 4 Is As Profound and New As the Previous Movies Says Tom Hanks.
The actor turns 63 today and we wish to show you how there's more to Hanks than being a great actor. He is considered to be one of the nicest people in Hollywood and there have been several instances that prove the same. There are great chances that you may run into Tom Hanks at Central Park and he will probably greet you warmly. The actor is known to be extremely kind to his fans. Here are some instances that show how Tom Hanks despite being such a big Hollywood star has the heart of gold.
1. Tom Hanks Sings Happy Birthday for a Fan at a Restaurant
Tom Hanks was recently in New Mexico for the shooting of his upcoming film Bios. The actor surprised a woman celebrating her birthday at an Albuquerque restaurant and also treated her to a special performance by singing "Happy Birthday." According to reports, the woman said they were the best 12 seconds of her life.
2. When Tom Clicked the Funniest Fake-Drunk Pictures With a Fan
View this post on Instagram
It was an epic moment. A random guy, met one of the greatest Hollywood actors and got to pretend to be drunk with him, when does that ever happen? Well, it did and the pictures went viral when a Reddit user posted saying, "My friend met Tom Hanks, stole his glasses and pretended to be wasted."
3. Tom Hanks's Eulogy for Green Mile co-star Michael Clarke Duncan
During a memorial service for the late actor Michael Clarke Duncan, who passed away from a heart attack in 2012, Tom Hanks gave a rather amazing eulogy, with an anecdote about Duncan's brief stint in a gang when he was a teen growing up in Chicago. The light-hearted story got everyone at the memorial service in smiles and remembering Duncan for his great spirit.  Toy Story 4 Trailer: Woody Is Back to Questioning His Life's Purpose As He Loses His Way Home and Meets Old Flame Bo Peep – Watch Video
4. Hanks Plays the Perfect Citizen in Real Life
Lauren! I found your Student ID in the park. If you still need it my office will get to you. Hanx. pic.twitter.com/Ee9kK4V4qf

— Tom Hanks (@tomhanks) October 6, 2015
Hanks is known to post interesting stuff on his Twitter. We often see him posting lost socks and gloves. Recently, the actor managed to become a helpful citizen after he started a search for a student named Lauren after finding her ID card in 2015. The actor wrote, "Lauren! I found your Student ID in the park. If you still need it my office will get to you. Hanx.
5. When Tom Hanks Turned into a Girl Scout Cookie-Seller
@tomhanks and Thank you for supporting our local girl scouts #thanxhanx pic.twitter.com/VisfPeaI97

— ginny rosenthal (@ginnyrosenthal) March 4, 2015
In 2015, Hanks spotted a group of girl scouts trying to raise money by selling cookies in Los Altos, California. The actor immediately jumped in to help them. Not only did Hanks buy two crates of cookies, but he also helped them sell more to members of the public.
Well, we certainly hope Tom keeps up his amazing antics and helps set the example for new actors to follow. We wish the Hollywood star very Happy Birthday and hope to see him continue to spell his magic on and off screen.