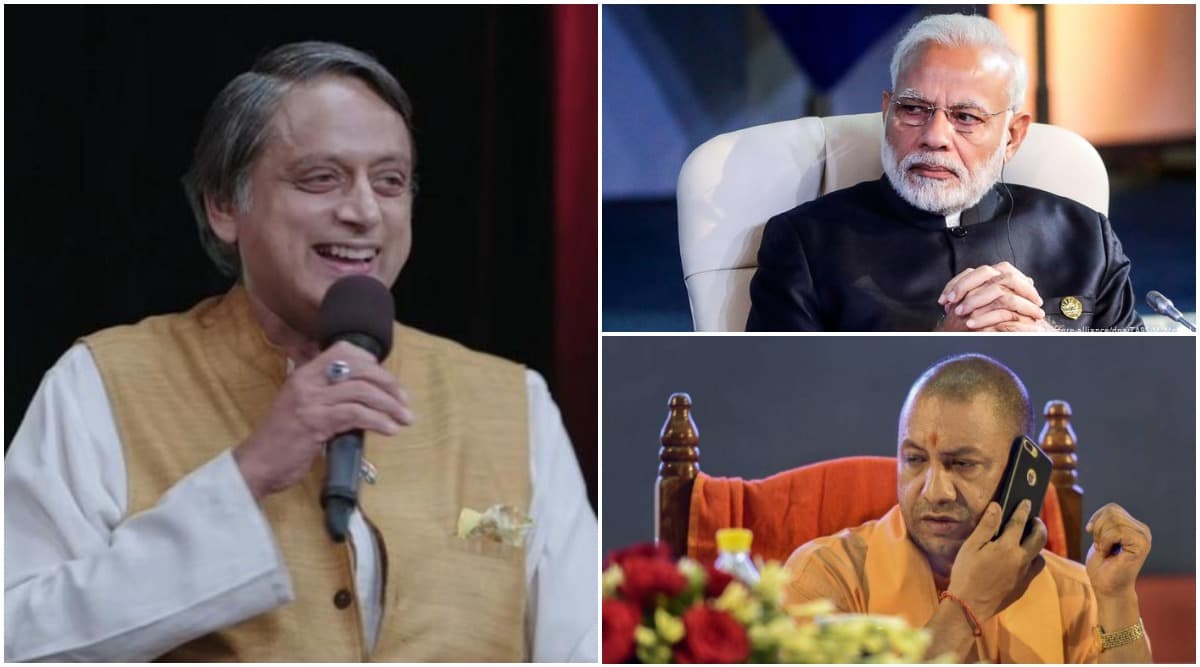 Amazon Prime's new Indian show, One Mic Stand, has become the talk of the town, ever since it made its debut a couple of days back. For the uninitiated, One Mic Stand is a comedy standup show with five episodes in the first season. What's special about it is that it has five popular celebs doing standup bit for the very first time. They are trained (at least for the first season) by popular standup comics, Ashish Shakya, Zakir Khan, Angad Singh Ranyal, Rohan Joshi and Kunal Kamra. Sapan Verma serves as the host for all the five episodes. Shashi Tharoor Turns Standup Comedian and Teaches Us a New English Word 'Recalcitrance' in the Promo of Amazon Prime's One Mic Stand (Watch Video).
For the first season, One Mic Stand managed to bring in Bollywood stars Taapsee Pannu and Richa Chadha, music composer/singer Vishal Dadlani, and YouTube sensation Bhuvan Bham. But of course, the most talked-about contestant has been the Congress Lok Sabha MP, Shashi Tharoor.
And when Tharoor is making jokes, you expect them to be about his impeccable English vocabulary, how British ruined India, and of course, his opposition team, the Bhartiya Janta Party (BJP) and PM Narendra Modi. Shashi Tharoor Takes a Dig on Delhi Air Quality, Shares Picture Calling the National Capital 'Injurious to Health'.
Considering it was Kunal Kamra who had mentored Shashi Tharoor in his standup bit, was surprised that the jokes were still milder. Kamra is known for his routine where he regularly takes digs at the current government and the media supporting them. In fact, the opening comedy segment of the episode (Tharoor's the fifth one) has Kamra incessantly rib a popular news anchor, without naming him, but the 'nation already knows' who he is talking about.
As for Tharoor's standup act, it was funny and the politician looked completely at ease in regaling the audience in front of him. And of course, he didn't let any opportunity to take digs at his opposition, especially Modi and Yogi Adityanath. Here's looking at seven times, Shashi Tharoor took digs at the opposite team in his standup act!
#1 Those 'Real' Speeches
Before his standup act happens, we are shown Shashi Tharoor having a casual conversation with Sapan Verma and Kunal Kamra at a hotel, and asking tips from them about his act. Kunal tells Tharoor that the audience reflects the comedian's mood, so there is no need to use the theatrics involved during political speeches. Which means, Kunal points out, the speaker should not look here and there, like the current Prime Minister.
To which, Tharoor reminds how the PM always looks out for the teleprompter.
#2 "No More"
During the same conversation, Sapan Verma told Shashi Tharoor that he is sure that the MP would throw in some subtle BJP jokes. To which, Tharoor faked some reservation, saying he can't mention Narendra Modi, because it will be "No More" instead of "Na Mo"!
#3 Yogi Adithyanath's Obsession With Renaming
During his standup act, Shashi Tharoor, who represents the constituency Thiruvanathapuram, reveals that he was looking for a place with a longer name. But then he heard Yogi Adityanath (the CM of Uttar Pradesh) was busy renaming places!
Tharoor also added that Yogi won't change the name 'Thiruvananthapuram', because it already has 'Ram' in it!
#4 The Most Truthful Party
Talking about the time when he was working with the United States, Tharoor said, "I was in the room when UNESCO declared India's National Anthem the best National Anthem in the world." After the laughter and the applause subsided, he added, "Except that I didn't hear it, actually!"
And then came the dig at BJP, when he continued, "But, I believe because BJP said so. And you know shortly thereafter, UNESCO declared BJP the most truthful party in the world!
#5 Chowkidars
Tharoor also spoke about people's habit of getting news from WhatsApp, saying he doesn't blame them for doing so. He said, "I don't blame you because journalism has gone to the dogs, right? And what are dogs? What do chowkidars (watchmen) rely on when they want to fall asleep?" In one joke, he ripped apart the journalists who allegedly are subservient to the current government, and Modi's 'chowkidar' campaign. SC Closes Contempt Plea Case Against Rahul Gandhi For Attributing 'Chowkidar Chor Hai' To Court.
#6 Demonetisation
Tharoor also talks about his favourite topic that he likes to debate on - how British Colonialism had ruined the Indian economy. He said that in England, History Students are never taught about Colonialism, and then goes on to have another Modi dig. He said, "They (the British) just don't bother to tell you, in fact, they mention Colonialism in British about as often as Narendra Modi mentions demonetisation these days!" Ouch!
#7 An Apology From Nehru
How can you talk about Narendra Modi and not mention the man, who gets blamed for everything? While closing his act Tharoor asked the audience if they had a great time and then added, "If you didn't (have a great time), I apologise... after the British have apologised for East India Company. And, Sapan apologises for East India Comedy."
And now comes the stinger, as he continued, "And even if those things didn't work out, then you can learn from Narendra Modi and just blame it all on Nehru!" More claps!
We wonder if the second season of One Mic Stand would bring in BJP spokesperson Sambit Patra, so that the balances are tipped even!