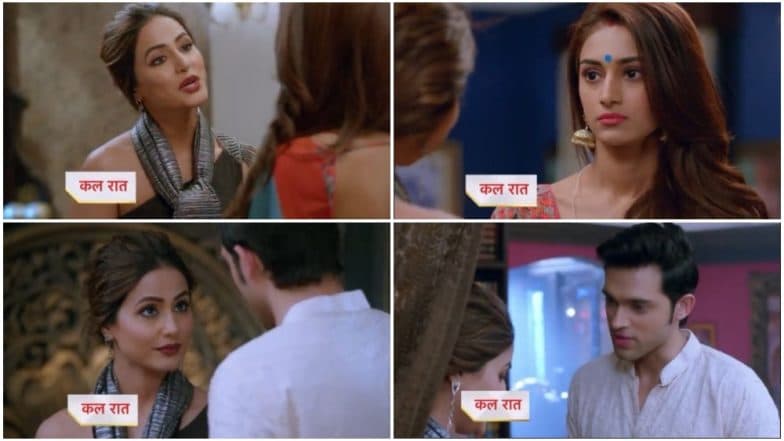 Today's episode of Kasautii Zindagii  Kay 2 starts with Komolika (Hina Khan) telling  Mohini to say something and why is she silent. Mohini asks Komolika, will she go for the honeymoon with Anurag so that she could make him her's while coming back. Mohini says that Prerna has come to fight for her rights and to get her husband, let her fight and put sindoor on her forehead without her husband. Mohini says when Komolika will return from honeymoon after winning Anurag's (Parth Samthaan) trust, Prerna (Erica Fernandes) will realize that she is fighting a losing battle, and that will only bring her humiliation. Komolika is impressed with Mohini's idea and is happy to see that Mohini also thinks her way. Mohini says that she will convince Anurag to go on a honeymoon. Komolika says that she has full faith in her. Seeing Nivedita Mohini says to keep an eye on Anupam as he is going out of hand. Kasautii Zindagii Kay 2 March 13, 2019 Written Update Full Episode: Anurag Agrees to Go on a Honeymoon with Komolika to Save Prerna
Next day morning, Nivedita comes to wake Anurag up and sees him sleeping on the sofa in the guest room and tells him to get up. Nivedita says Mohini's health is not fine and she wanted to talk to him, Anurag goes to Mohini's room. There Komolika is telling Mohini is she sure that she wants to do this, Mohini says this is only the way to coax him to agree. Anurag comes and asks what happened, Mohini says that she is fine now after seeing him. Mohini says that she had a lot of dreams for his marriage and tells Anurag to go for the honeymoon with Komolika and that they will feel the change and then decide what to do with Prerna. Anurag thinks this is the right time to show his love for Komolika and says he will go with Komolika for the honeymoon. Anurag says that what all happened between him and Prerna was a big mistake and that he has realized it now. Anurag tells Komolika that they should start a new life after coming from the honeymoon. Komolika is surprised to see Anurag's behavior and is happy as he agreed for the honeymoon. Mohini is also happy. Kasautii Zindagii Kay 2: Hina Khan and Erica Fernandes Exchange Cold Vibes on Sets? Here's What the Latter Has to Say
There Anurag thinks that Komolika cannot think that this honeymoon is her first defeat and the first victory of his love. Prerna comes and dashes with Anurag, he holds her in his arms as she is about to fall (Ishq ki bajiya zitiya na hariya track is played in the background). As Prerna goes from there Anurag thinks why he behaved like that and if Prerna noticed that he still loves her then it will not be good and she will face more problems.
Anupam comes and ask Anurag, why is he going for the honeymoon with Komolika, Anurag says it is his plan and let it work then he will tell him. There when Prerna comes to her room she sees Komolika, she is surprised to see her in the bed. Komolika says that she is happy today as she and Anurag are going for their honeymoon and that she is super excited for it. Komolika says that she stole her room and her bed so she has booked a room and a bed for her honeymoon night. Komolika says after this night Anurag will never come in her room. Prerna says why is she stressed and tells her to pack and go. Prerna says that her dreams are going to be shattered and her nuptial night will be like any other normal night as she won't allow it to happen. Komolika says that is she challenging her and that she has never lost any challenges. Prerna says and she has always won. Komolika says if Prerna wins this challenge, she will bow down before her all her life. Prerna says it is a deal.
In the precap, Anurag is telling Komolika that he will fight for her as he is her husband. Anurag holds Komolika's hand and waves goodbye to Prerna.