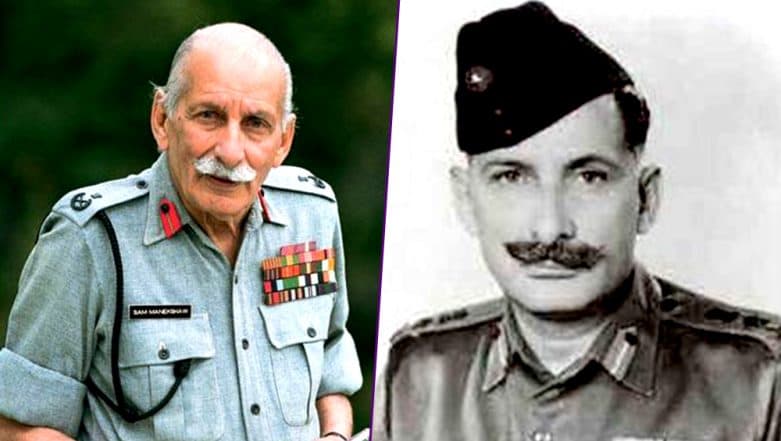 Field Marshal Sam Hormusji Framji Jamshedji Manekshaw was the eighth Chief of Army Staff. Famous by his nickname Sam, he was one of the most celebrated generals of the Indian Army. Sam Manekshaw led India to victory in 1971 war against Pakistan. Born in Amritsar on 3rd April 1914, Field Marshal Manekshaw did his schooling from Sherwood College, Nainital. He was one of the pioneers of the Indian Military Academy (IMA), Dehradun. Sam joined IMA on October 1, 1932. After completing his training from IMA he was commissioned into the Indian Army as the Second Lieutenant in 1934. During the World War II Manekshaw was awarded Military Cross for his gallantry.
After the partition of 1947 Field Marshal Manekshaw was reassigned to the 16th Punjab Regiment. He demonstrated his planning and administrative skills in handling the division related issue during the partition. He displayed valour and battle skills during Jammu and Kashmir operations when Pakistan Army along with Afghan fighters attacked Kashmir.
Field Marshal Manekshaw played an instrumental role for handling the insurgency in Nagaland as the GOC- in – Eastern Command, for which he was awarded Padma Bhushan in 1968.
After becoming COAS, Manekshaw was given the task to formulate a plan to counter Pakistan's aggression in the East. He devised war strategy which forced Pakistan Army to surrender and led to the formation of Bangladesh. In 1971 war almost 90,000 Pakistani soldiers surrendered. In 1972 Manekshaw was awarded Padma Vibhushan.
On January 1, 1973, he became the first General of the Indian Army to be promoted to the rank of Field Marshal. After serving for 39 years Field Marshal Manekshaw retired from the Indian Army. After retiring from the army he settled with his wife in Coonoor, Tamil Nadu. At the age of Field Marshal Sam Hormusji Framji Manekshaw died on 27th June 2008.
Field Marshal Manekshaw was also known for his jovial nature. On 16th December 2008, a postal stamp was released by the then President Pratibha Patil on Sam Manekshaw's image marking the 37th anniversary of 1971 Indo-Pak war.