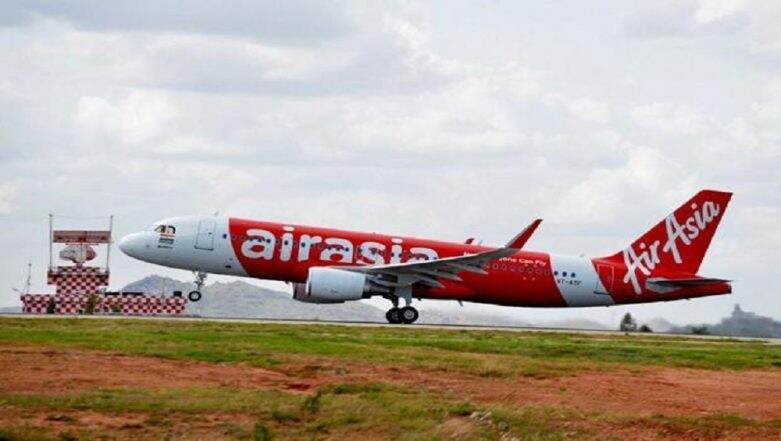 Delhi, May 13: Malaysian low-cost airline AirAsia's Hyderabad-Delhi flight, carrying 174 passengers onboard,  made an emergency landing at Delhi's Indira Gandhi International Airport (IGIA) on Monday morning. The reason for the emergency landing is said to be a technical issue. According to reports, the pilot had requested an emergency landing to the Air Traffic Control (ATC) of Delhi airport. Air France's Mumbai-Bound Flight Makes Emergency Landing in Iran.
The ATC asked to declare a full emergency for Air Asia flight I5-719, at 11 am, as the pilot informed about hydraulic failure. The plane landed safely at 11: 15 am and was taken to the parking bay and full emergency was eliminated at 11:40 am, an ATC official was quoted saying by Hindustan Times.
"Flight i5-719 operating from Hyderabad to New Delhi had a technical issue during descent. Flight crew carried out a precautionary landing & the plane landed, following which the aircraft taxied back to the apron. Detailed inspection of aircraft is underway," said Air Asia in a statement.
Earlier, on May 8, a full emergency was declared on Singapore Airlines plane, carrying 228 passengers on board. The flight made an emergency landing in the national capital after suffering a glitch with its nose wheel. The flight SQ 406 landed safely but the plane was towed away, due to which the runway was closed for around 18 minutes, delaying some flights.