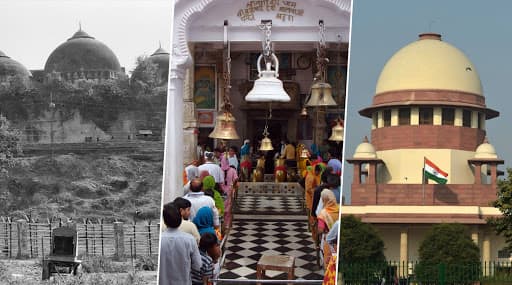 New Delhi, October 15: With the hearing for politically sensitive Ram Janmabhoomi land dispute case at Ayodhya entering 39th day in the Supreme Court on Tuesday, senior advocate K Parasaran -- representing petitioner Mahant Suresh Das -- argued that the apex court judgment should undo a historical wrong of destruction of the temple in Ayodhya to build a mosque. Adding more, he stated that conquerers can't be allowed to destroy India's history.
Presenting his arguments ahead of the five-judges bench -- chaired by CJI Ranjan Gogoi, Parasaran stated that Muslims could pray in other Mosques and leave the site for Hindus, as they consider it as the birthplace of Lord Rama. He said, as reported by CNN News 18 journalist, "Muslims can pray in any other mosque as well. There are 55-60 mosques in #Ayodhya alone. But for Hindus, it is the birthplace of Lord Ram...we can't change the birthplace." Ayodhya Case Hearing: 'Why All Questions Being Asked Only to Us', Muslim Counsel Asks Supreme Court.
Parasaran even distinguished between an emperor and a conquerer. He also questioned how can Muslims now assert their title on the disputed land and Babri Masjid on the basis of an admittedly tainted dedication. Adding further, the senior advocate he even brought Babur to sustain his arguments and called him a foreign conquerer. Parasaran stated that ownership claim over the disputed property could not be given on the basis of someone conquering it.
Asked by the CJI Gogoi on whether he asks agrees with senior advocate Rajeev Dhavanargument that once a mosque, always a mosque, Parasaran stated, " No.. My case is once a temple, always a temple. I won't comment on their argument since I am not an expert."
Earlier on Monday, senior advocate Rajeev Dhavan -- representing lead petitioner M Siddiq and the All India Sunni Waqf Board -- alleged that questions are asked only from them and not posed to the Hindu side. The concerns were raised in front of a 5-judge bench headed by Chief Justice Ranjan Gogoi. Ayodhya Case Hearing: Supreme Court Asks Yogi Adityanath Govt to Provide Security to Sunni Waqf Board Chief Zufar Ahmad Farooqui.
Making the controversial claim on the 38th day of the hearing, Dhavan stated, "Your Lordship didn't ask a question to the other side. All the questions have been asked to us only. Of course, we are answering them." Following this, the submissions were vehemently opposed by senior advocate C S Vaidyanathan who said, "This is totally unwarranted."
The controversial case is being heard by a bench comprising of -- CJI Ranjan Gogoi and justices S A Bobde, D Y Chandrachud, Ashok Bhushan and S A Nazeer. Citing the seriousness of the case, Section 144 was imposed in the Ayodhya district till December 10. Also, Faizabad Divisional Commissioner had denied permission to Vishva Hindu Parishad (VHP) leaders to light lamps in Ayodhya on Diwali.