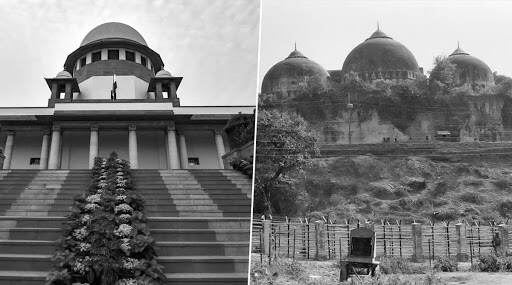 New Delhi, October 14: The Supreme Court on Monday directed the Yogi Adityanath-led Bharatiya Janata Party government on Monday to provide adequate security to Uttar Pradesh Sunni Waqf Board chairman, Zufar Ahmad Farooqui -- apprehended a threat to his life. Farooqui had informed the Court's five-judge Constitution bench that he fears for his life. He is one of the main petitioners in the Ram Janmabhoomi-Babri Masjid dispute.
With the hearing for the controversial case entered 38th day, Farooqui moved the apex court through Sriram Panchu, who is one among the three-member mediation panel formed by the court to seek an amicable solution. After going through the petition, the bench asked the Uttar Pradesh government to provide adequate security to UP Sunni Waqf Board Chairman Zufar Ahmad Faruqui. Ayodhya Case Hearing: 'Why All Questions Being Asked Only to Us', Muslim Counsel Asks Supreme Court.
Earlier, senior advocate Rajeev Dhavan -- representing lead petitioner M Siddiq and the All India Sunni Waqf Board in the case -- alleged that questions are asked only from them and not posed to the Hindu side. The concerns were raised in front of a 5-judge bench headed by Chief Justice Ranjan Gogoi.
He alleged, "Your Lordship didn't ask a question to the other side. All the questions have been asked to us only. Of course, we are answering them." to which, senior advocate C S Vaidyanathan -- representing deity 'Ram Lalla' -- opposed the claims and said, "This is totally unwarranted."
Taking Dhavan's concerns, the bench observed that the Hindus only had "prescriptive right" to enter and offer prayer at the site. They added that it does not mean that Hindu had ownership claim over the disputed property. Earlier, senior Vishva Hindu Parishad (VHP) leaders met the commissioner of the Faizabad division Manoj Mishra and sought permission to celebrate the festival of light at the Ram Janmabhoomi site. It is to be known that Section 144 was imposed in the Ayodhya district till December 10.