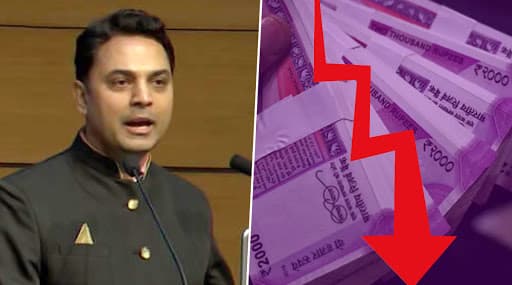 New Delhi, October 18: With the reports of the economic crisis gripping the country and gross domestic product (GDP) rate, Chief Economic Adviser at the Union Finance Ministry -- Krishnamurthy Subramanian -- said on Friday that the government is planning to take more steps to boost consumer demand by injecting liquidity through banks. Also, simplifying the taxes are other measures that the Narendra Modi government is mulling to raise economic growth.
Expressing his opinion on the recent economic crisis, Subramanian said in an interview with the global news agency Reuters, "In the short-run, we are taking steps to increase consumption so that anticipating that consumption, investment also goes up." He also stated that sectors, where attentions are tabled, are easing personal taxation and making the whole tax administration simpler. Dr Manmohan Singh Hits Back at Nirmala Sitharaman For Blaming Him For Bank Crisis, Seeks PM Narendra Modi's Intervention in PMC Bank Matter.
On being asked about the task force -- which Union FM Nirmala Sitharaman had announced some weeks ago, the CEA said that the proposal is under process and its recommendations would soon be made public. He even informed that 'the direct tax code task force has submitted its report' and the FM is hopeful that streamlining the tax administration might help in improving the 'tax buoyancy'.
Taking measures to revive the declining economy and losing consumer market, FM Sitharaman had slashed the corporate tax rate from 30 percent to 22 percent, and 15 percent for new manufacturing companies. However, the Union Ministry informed that effective CTR would be 25.17 percent. Among other things, Sitharaman even slashed the Goods and Services Tax rates for a few products. Nirmala Sitharaman Asks MSMEs to Respond by Oct 22 if They Would Provide Bill Discounts to Corporates Who Owe Them Rs 40,000 Crore.
Looking at the challenges of the country going to face is proving the International Monetary Fund's assumption of India's growth projection. IMF recently had cut India's growth forecast to 6.1 percent for this fiscal year from an initial 7 percent, by citing a slowdown in domestic and global demand. Since the growth of India slipped to five percent in quarter one of the Fiscal Year 2019-20, the hope for the revival of seems a little shaky at this moment.