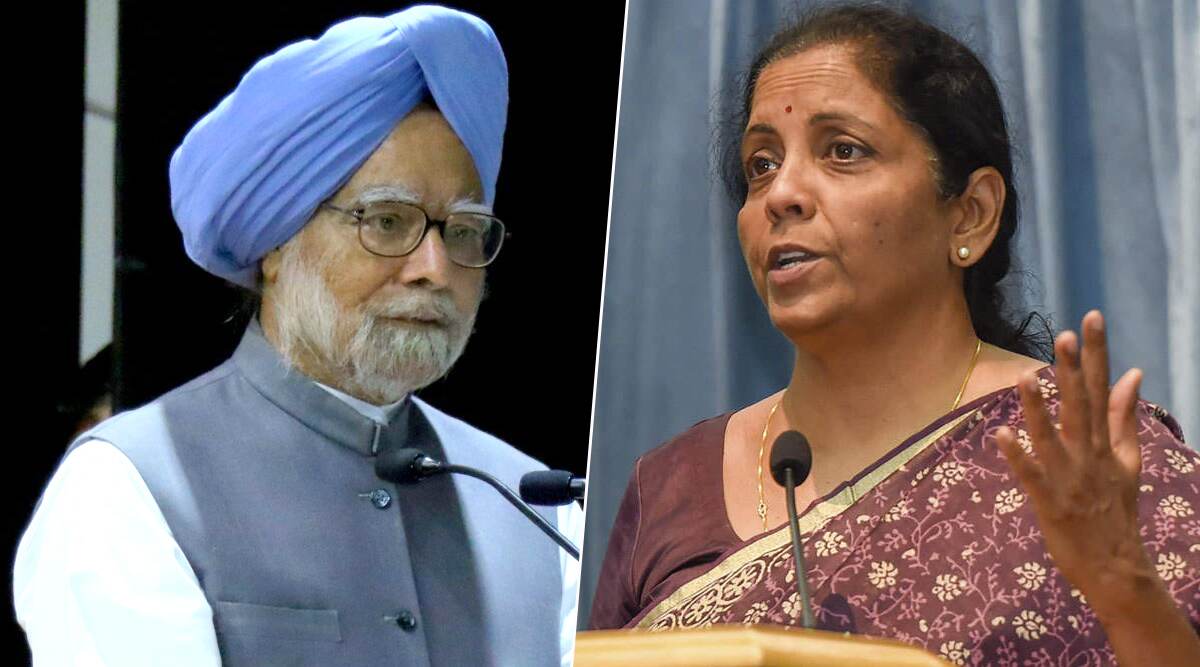 Mumbai, October 17: Former Prime Minister Dr Manmohan Singh hit back at Union Finance Minister Nirmala Sitharaman who held him responsible for the bank crisis. Addressing a press conference in Mumbai in the run-up to the October 21 Maharashtra elections, Manmohan Singh said that the Bharatiya Janata Party (BJP) government "is obsessed with trying to fix blame on its opponents" instead of finding solutions.
"I have just seen the statements by Finance Minister Nirmala Sitharaman. I won't like to comment on that statement, but before one can fix the economy, one needs a correct diagnosis of its ailments and their causes. The government is obsessed with trying to fix blame on its opponent, thus it is unable to find a solution that will ensure revival of the economy," Singh said. Nirmala Sitharaman Asks MSMEs to Respond by Oct 22 if They Would Provide Bill Discounts to Corporates Who Owe Them Rs 40,000 Crore.
Delivering a lecture at the prestigious Columbia University's School of International and Public Affairs on Tuesday, Sitharaman said that the Indian public sector banks had the "worst phase" under the combination of Manmohan Singh and former Reserve Bank of India (RBI) Governor Raghuram Rajan.
"I have no reason to doubt that Rajan feels for every word of what he is saying. And I'm here today, giving him his due respect, but also placing the fact before you that Indian public sector banks did not have a worst phase than when the combination of Singh and Rajan, as Prime Minister and the Governor of the Reserve Bank of India (RBI), had. At that time, none of us knew about it," the Finance Minister said.
Manmohan Singh further said that the state of Maharashtra witnessed some of the worst effects of economic slowdown under the BJP regime. "Much advertised double engine model of governance on which BJP seeks votes has utterly failed. Maharashtra has faced some of the worst effects of economic slowdown. Manufacturing growth rate of Maharashtra has been declining for fourth consecutive years," Singh told the press conference.
Describing the PMC Bank crisis as unfortunate, the Congress MP said that Prime Minister Narendra Modi, Maharashtra Chief Minister Devendra Fadnavis and Sitharaman should find an effective solution. "I expect the government of India, RBI and the Government of Maharashtra to put their head together and provide a credible, pragmatic and effective solution to this case where 16 Lakh depositors are trying for justice," Singh added.