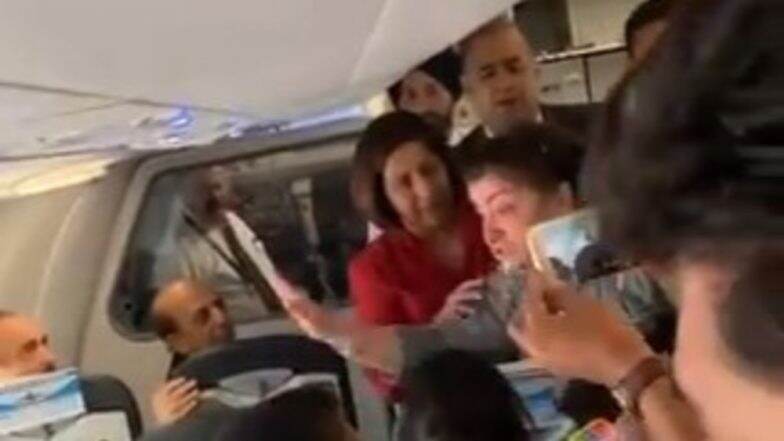 Delhi, August 24: Former Congress president Rahul Gandhi and other Opposition leaders were sent back to Delhi airport on Saturday. A video from the flight, when they were returning from Srinagar to Delhi, is going viral. In the clip, a woman came in front of Rahul Gandhi and other Opposition leaders and expressed her grief over the restrictions in Jammu and Kashmir. Rahul Gandhi Tries to Convince Srinagar Airport Officials to Let Him Step Out, Meet People in Jammu and Kashmir; Watch Video.
In the video shared by an ABP News correspondent on Twitter, the Kashmiri woman can be seen saying to Gandhi that "our children have not been able to move out of their houses. My brother is a heart patient and not getting proper treatment. We are totally in trouble." The Gandhi scion was seen in the video condoling her and assuring her of justice. Priyanka Gandhi also shared this video and said, 'nothing is more anti-national than shutting down of democratic rights in Kashmir'.
Watch: Woman on Srinagar to Delhi Flight Cries in Front of Rahul Gandhi:
राहुल गांधी और विपक्षी पार्टियों के नेताओ के सामने फ़्लाइट मे एक कश्मीरी महिला ने अपने दूख का इज़हार किया... pic.twitter.com/erlHLMgNC6

— Aadesh Rawal (@AadeshRawal) August 24, 2019
Meanwhile, just after reaching Delhi airport after being sent back from Kashmir, Rahul Gandhi said that the situation in Jammu and Kashmir "clearly is not normal". A delegation led by Gandhi were denied permission to step out of Srinagar Airport.
Gandhi said he was invited by Governor Satya Pal Malik to visit the state and witness the normalcy was restored after centre's decision to revoke Article 370 and bifurcate state into two union territories- Jammu and Kashmir, and Ladakh.
"Some days ago, I was invited by the Governor to visit Jammu and Kashmir. So I accepted the invitation. The governor had suggested that everything was normal and that he would send me a plane to visit the state. I told him -- I don't need your plane but I will accept your invitation and I would come to Jammu and Kashmir," Gandhi said.
"We wanted to get a sense of what people are going through and help them if we could. But unfortunately, we were not allowed to go beyond the airport. The press people with us were mishandled, beaten. It's clear that things are not normal in Jammu and Kashmir," Gandhi added.
However, Governor Malik said Gandhi's visit was a political one. "I had invited him out of goodwill but he started doing politics. It (their visit) was nothing but a political action by these people. Parties should keep in mind the national interest at these times," he said speaking to ANI.