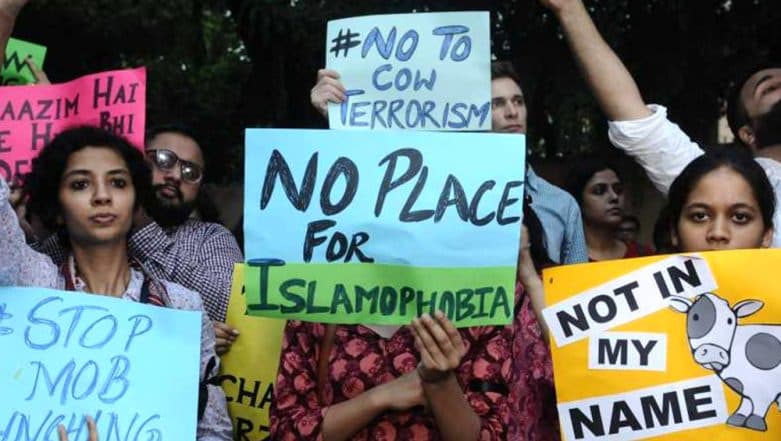 Patna, August 23: In another case of mob lynching in Bihar, a mentally ill woman was lynched by a group of people on Thursday over rumours of being a child-lifter. False information that the woman was an abductor spread like wildfire in the Bihar's Vaishali district, leading to the tragic incident. According to a report by Hindustan Times, the unidentified woman is the seventh person to be lynched in Bihar over the last one month. The incident was reported from Shahpur Toli in Vaishali district when locals thrashed her after she had entered a house on Thursday. Mob Lynching in Bihar: Three Men Beaten to Death by Locals in Baniyapur on Suspicion of Cattle Theft.
According to details by Police, the woman is believed to be in her 20s. The report further added saying that after the woman was caught, she was declared a child lifter. A mob of nearly 70 people gathered at the spot and punched her brutally. Moreover, men, women and children, stripped her and mercilessly thrashed her till she to unconscious. The woman's body has been sent for post-mortem.
On August 19, a man was beaten to death at Choudhary Bihga village in Aurangabad district on over child lifting rumours. Earlier this month, three people were brutally thrashed by locals of Patna's Digha area on the suspicion of being child-lifters in three separate incidents. The Supreme Court recently took a strong view of such incidents and asked the Centre to frame a separate law to tackle this menace.
In July, a man was lynched in West Bengal's Alipurduar district by a mob on the suspicion of being a child-lifter. The incident occurred at the Tasati tea garden when locals saw a person moving suspiciously in the area. Police informed that over 250 people had beaten up the man with fists and also kicked him. He was seriously injured when we recovered him from the mob.