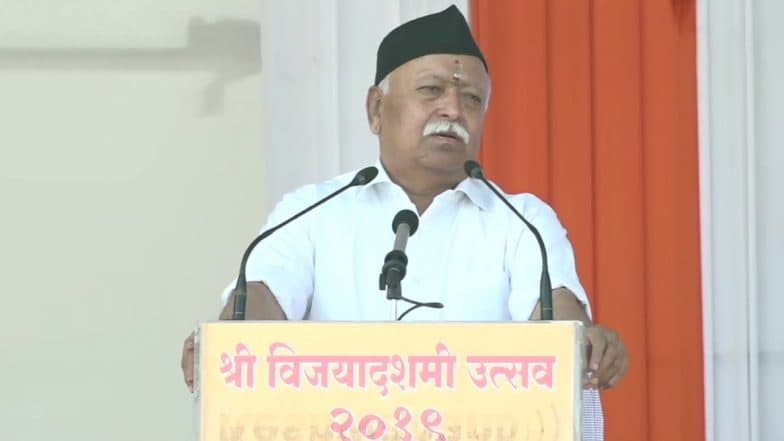 Amritsar, October 10: Sikh bodies on Thursday slammed Rashtriya Swayamsevak Sangh (RSS) Chief Mohan Bhagwat for his "Hindu Rashtra" statement. Shiromani Gurudwara Parbandhak Committee (SGPC) President Gobind Singh Longowal asked Mohan Bhagwat to refrain from making such remarks. Responding to Bhagwat's statement, He said that the Indian constitution grants freedom to people of every religion. Lynchings Being Used to Defame India, Hindus, Says RSS Chief Mohan Bhagwat in Nagpur.
"It is unfortunate that the RSS chief is deliberately imposing a Hindu nation agenda which is in contempt of Indian constitution," reported The Times of India quoting Longowal as saying. He also said that India is multi-ethnic, multi lingual and multi-religious nation.
SAD (Taksali) secretary-general and chief spokesman, Sewa Singh Sekhwan told TOI, "Such statements tend to bring a sense of aversion in Indians who belong to other religions and cultures." He also the Bharatiya Janata Party is the political outfit of the RSS, and the statement of the head of such a huge organisation is a reflection of "daunting mindset". On Vijayadashami 2019, Mohan Bhagwat Hails Modi Government For Taking Bold Decisions, Says 'RSS Members Not Involved in Mob Lynchings'.
Bhagwat, in "state of the nation" address on Vijayadashami on October 8 had said that "Bharat is a Hindu Rashtra". He had also said Hindus need to unite if they want to be heard by the world. All India Majlis-e-Ittehadul Muslimeen (AIMIM) Chief Asaduddin Owaisi also slammed Bhagwat for his comments.  He said the concept is based on Hindu supremacy.