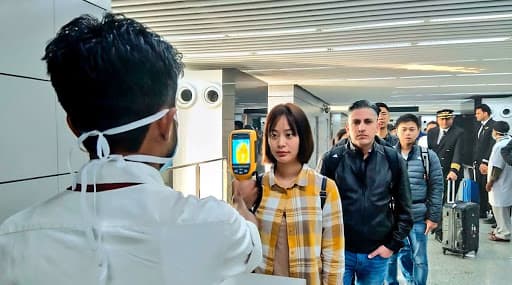 New Delhi, January 23: The Union Ministry of Health and Family Welfare on Wednesday said that they have screened 9,156 passengers from 43 flights for novel coronavirus (nCoV) till Tuesday at seven identified airports, but have not detected any case so far in India. Apart from this, the Ministry had advised for special arrangement in state hospitals for cases related with nCoV.
With the death toll rising to 17 and confirmed cases climbing to 571 in and out of China due to nCoV, screening centres were set up at international airports at Chennai, Bengaluru, Hyderabad, Cochin. Earlier, the Civil Aviation Ministry had directed to make special arrangements at international airports of Mumbai, New Delhi, and Kolkata. Novel Corona Virus Disease (nCoV) Effect: Civil Aviation Ministry Directs Airports in India to Set Up Logistics Support to Screen Passengers From China.
Following the outbreak, Kerala government had set up screening centres in many airports in the state, including Cochin international airport. It said, "So far 28 passengers, who came directly from the affected areas have undergone screening test and all tests were negative, No alarming situation inferred." Adding more, the Cochin International Airport Limited statement said that special masks and gloves were distributed to all officials who have been deployed in the international arrival area of the airport.
Similar arrangements in the state of West Bengal, Telangana, Maharashtra, Delhi, Karnataka, Tamil Nadu and Uttar Pradeah have been made. In the meantime, the Union Health Ministry had advised for special arrangement in state hospitals for cases related with nCoV. Union Health Secretary Preeti Sudan had confirmed that the ministry is monitoring the situation very closely and have not any case so far. China Virus SARS Contagious Between People, Says Chinese Government Expert.
Here' the tweet by Health Secretary Preeti Sudan:
Ms. Preeti Sudan, Health Secy on preparedness reg #coronavirus: the situation is being monitored very closely. More than 9000 passengers have been screened. No case has been found in India.@PMOIndia @drharshvardhan @AshwiniKChoubey @MoCA_GoI @DDNewslive https://t.co/XsTTmDtlli

— Ministry of Health (@MoHFW_INDIA) January 22, 2020
However, reports from various agencies confirm that 440 cases of pneumonia with novel coronavirus were confirmed in China, while 14 were reported from Taiwan. nCoV is seen closely with Sars (severe acute respiratory syndrome) virus that killed nearly 800 people globally in the early 2000s, which was also the common cold.