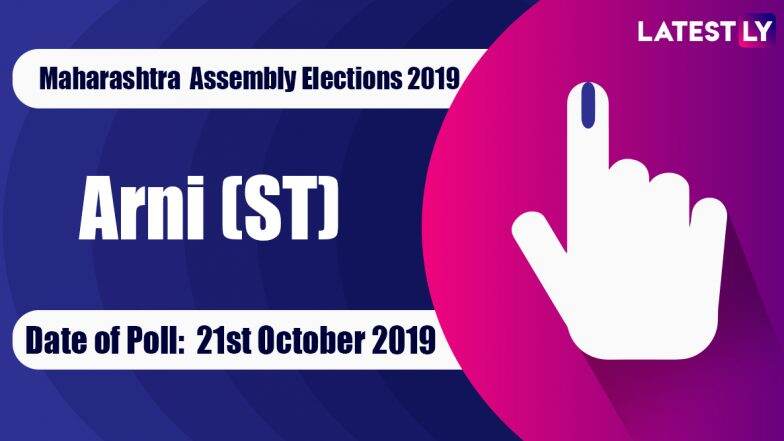 Mumbai, October 10: The Bharatiya Janata Party (BJP) and the Congress are at loggerheads in Maharashtra's Arni Vidhan Sabha seat. For the October 21 Maharashtra assembly elections, the BJP replaced its sitting MLA from Arni Raju Narayan Todsam with Dr Dhruve Sandeep Prabhakar. Congress renominated Shiwajirao Shiwramji Moghe who lost the 2014 polls. Unlike 2014, the BJP has formed an alliance with the Shiv Sena. Similarly, Congress has a tie-up with the Nationalist Congress Party (NCP). Ralegaon Vidhan Sabha Constituency in Maharashtra: Sitting MLA, Candidates For Assembly Elections 2019, Results And Winners.
Following the seat-sharing pact between the BJP and the Shiv Sena, the saffron party has 164 of 288 seats in its quota. The Uddhav Thackeray-led party is contesting 124 seats. The Congress and the NCP have divided 250 seats equally among each other. The remaining seats have gone to smaller parties in the Congress-NCP alliance. Polling will be held on October 21. The counting of votes will take place on October 21 and the results will be declared on the same day. Aaditya Thackeray as Maharashtra CM? Shiv Sena's Dream is Still A Distant One as BJP Plays Big Brother in Alliance During Assembly Elections 2019.
The term of Maharashtra assembly ends on November 9. In 2014, the BJP came to power winning 122 seats in Maharashtra assembly elections. The Shiv Sena, which broke alliance with BJP ahead of polls, managed to bag 63 seats. The Congress and the NCP contested polls separately and won 42 and 41 seats respectively. Bahujan Vikash Aghadi and the PWP won three seats each. Asaduddin Owaisi's AIMIM secured two seats.
Bharipa Bahujan Mahasangh, Communist Party of India (Marxist), Maharashtra Navnirman Sena, Rashtriya Samaj Paksha and Samajwadi Party won one seat each. Seven Independents were also elected.