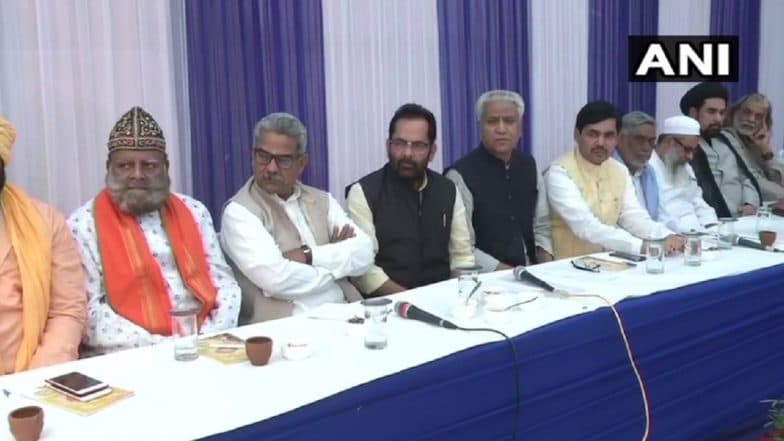 New Delhi, November 5: Ahead of the Supreme Court verdict in the 134-year-old Ayodhya land dispute, the government has initiated measures to reach out to influential socio-religious leaders of Hindu and Muslim communities. A major outreach programme was carried out at the residence of Union Minority Affairs Minister Mukhtar Abbas Naqvi on Tuesday. The senior BJP leader chaired a meeting between prominent Muslim clerics and a delegation of the Rashtriya Swayamsevak Sangh (RSS).
Among those present at the meeting included Maulana Mahmood Madani, who heads one of the factions of the influential Jamiat-e-Ulema-e-Hind. Sirajuddin Qureshi, chief of the Islamic Cultural Centre and top Shia cleric Maulana Kalbe Jawwad were among the leaders from the Muslim side present at the meeting. Ayodhya Verdict: Centre Gives UP 4000 CAPF Personnel to Maintain Law and Order Before, After Ram Janmabhoomi- Babri Masjid Judgement.
At the meeting, BJP leader Shahnawaz Hussain was also invited by Naqvi. Renowned Muslim filmmaker Muzaffar Ali was also seen at the negotiating table, as per the visuals released by news agency ANI.
The RSS delegation, which held talks with the Muslim clerics, included the joint group's general secretary Krishna Gopal. Although the exact details of the discussion were not out, reports said the two sides deliberated on measures to keep peace intact irrespective of the apex court's verdict.
Update by ANI:
Delhi: Meeting underway at Union Minister Mukhtar Abbas Naqvi's residence ahead of Ayodhya verdict. Muslim clerics and Rashtriya Swayamsevak Sangh (RSS) leaders present. pic.twitter.com/uDkzdVoqMg

— ANI (@ANI) November 5, 2019
In run-up to the verdict, which is expected before November 17, the Sangh Parivar has planned nearly 20 such Muslim outreach programmes, reports said. For this purpose, BJP and RSS functionaries who have gained confidence among the Muslims have been entrusted.
Arun Anand, the chief executive of the RSS-affiliated Indraprastha Vishwa Samvad Kendra, said the Sangh Parivar is a votary of peaceful ties between the Hindus and Muslims. The minority community, he said, should look upon at APJ Abdul Kalam and Dara Shikoh as their icons instead of Babar, Aurangzeb or Ghazni. He further told reporters that all communities respect a place of worship like the Cheraman Mosque -- considered as the first Muslim prayer site built in India in 7th century -- rather than the Babri Masjid.