Bangalore, May 10:  It is the last day of campaigning for the Karnataka Assembly Elections 2018 and the Bharatiya Janata Party (BJP) has planned rallies and road shows across the state in different constituencies. The BJP Karnataka has tweeted saying that, "As we enter the last day of public campaign, the BJP is organising road shows in more than 150 assembly constituencies today attended by our central leaders and CM's of various states. Our workers are reaching millions of voters at their homes & heralding a new Karnataka."
Karnataka is one of the four states in India that has a Congress government. It is also the biggest state that the Congress Party is in power. In comparison, the Bharatiya Janata Party is in power in 21 states. The BJP wants to dislodge Congress from Karnataka and wants to take its mission of "Congress Mukt Bharat" a step forward. Karnataka will also serve as a gateway for the BJP in the southern states in India, where it is trying to find a foothold, after establishing dominance in Northern, Western and even North- Eastern states of India. Prime Minister Narendra Modi addressed a total of 21 states in the poll bound state which goes to election on May 12, Saturday. Here is the complete list of BJP leaders and the constituencies where road shows will be held: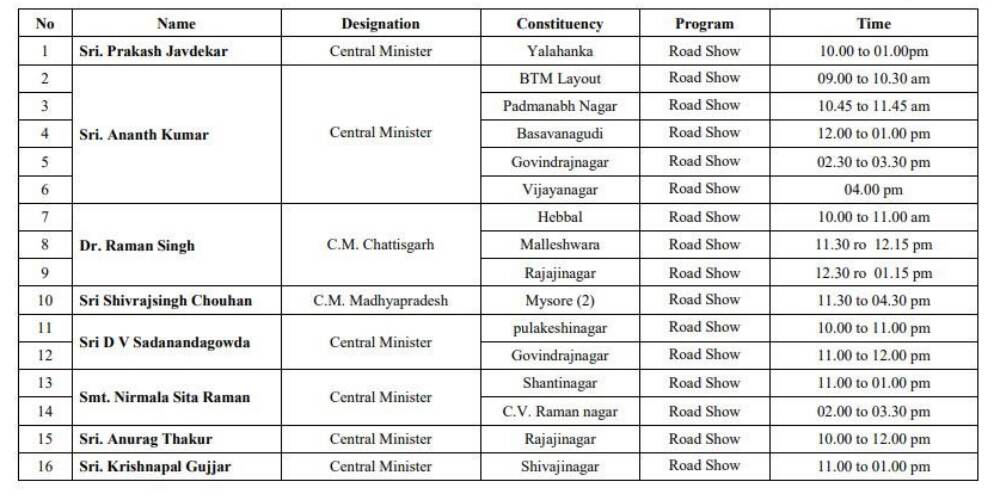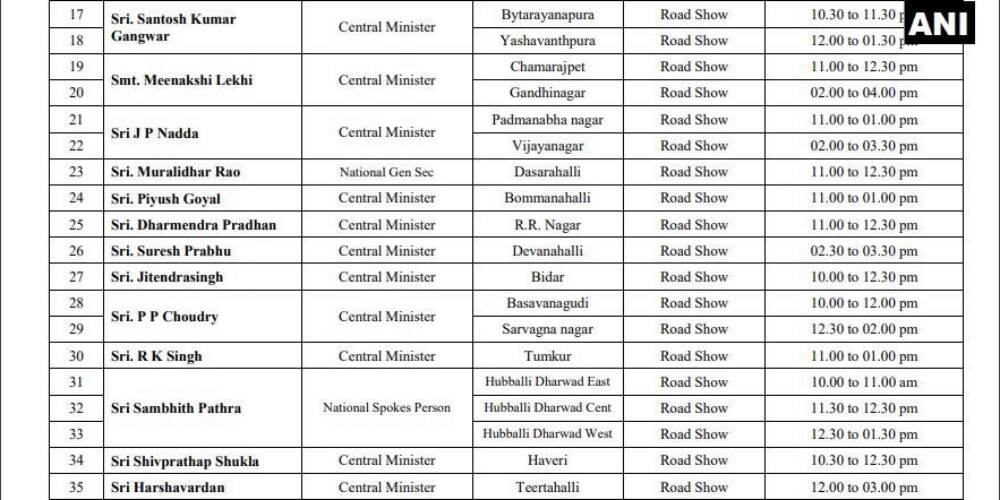 Other than the above mentioned leaders, Tarachand Gehlot and Manoj Tiwari, both central ministers, will also hold rallies in Hoskote, K R Puram, and Malur respectively. BJP President Amit Shah and Uttar Pradesh Chief Minister Yogi Adityanath have already addressed rallies in the poll bound state.
The Congress has relied on its President, Rahul Gandhi and Chief Minister Siddaramaiah for taking Congress to victory in the state. UPA Chairperson Sonia Gandhi, also addressed a rally in Bijapur on May 8. It was her first rally in nearly two years after she had been taken ill. Former Prime Minister Dr. Manmohan Singh addressed a press conference on May 7. The Karnataka Assembly elections 2018 political campaigning has seen one of the most intensive campaigning in recent times from the national parties. All eyes will be on May 12, Saturday, on the day of polling. While the results will be declared on May 15, Tuesday.