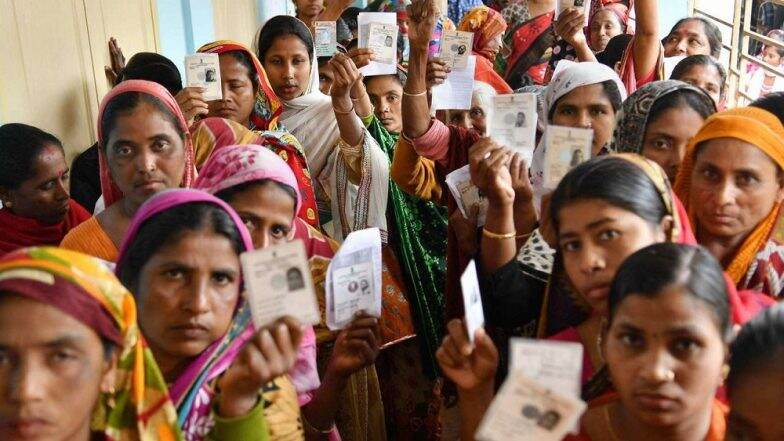 New Delhi, March 10: The constituency-wise dates of Lok Sabha elections 2019 has been declared by the Election Commission of India (ECI). While the polling body had announced the state-wise schedule during its press conference earlier in the day, the polling dates of each seat were revealed after it released the press statement.
The top metro cities of Delhi, Mumbai, Kolkata and Chennai would be voting on May 12, April 29, May 19 and April 18, respectively. Hyderabad would be going to polls in the first phase, on April 11, whereas, Bengaluru would be contested in the second phase, on April 18. Check Full Schedule of Lok Sabha Elections 2019.
Among other major state capitals, Patna (Patna Sahib) would be contested in the last phase, on May 19. Bhopal would go to polls in the 6th phase, on may 12. Raipur would be voting on April 23, Jaipur on May 6, Chandigarh on May 19, Lucknow on May 6, Srinagar on April 23, Ranchi on May 6 and Ahmedabad on April 23. For the dates of all 543 seats, download the ECI statement here via eci.gov.in.
Watch Video: Highlights of Lok Sabha Elections 2019 Schedule Released by ECI
Nearly 90 crore voters are eligible to participate in the upcoming elections, up from 81 crore registered electorate in 2014. Nearly 10 lakh polling booths will be set-up, announced Chief Election Commissioner Sunil Arora, adding that the ECI would leave no stone unturned to ensure "free and fair" polls.
Among firsts, this would be the first election when the Commission would be using all VVPAT-equipped EVMs. The decision was taken in view of the apprehensions being raised by a section of political parties on the use of electronic voting machines. Further, to tackle the menace of dummy candidates, the ballot box would have images of candidates beside their names.
Results of the seven-phase elections would be declared on May 23, the ECI announced. Following the release of poll schedule, Prime Minister Narendra Modi said, "Wishing all political parties and candidates the very best for the 2019 Lok Sabha elections."