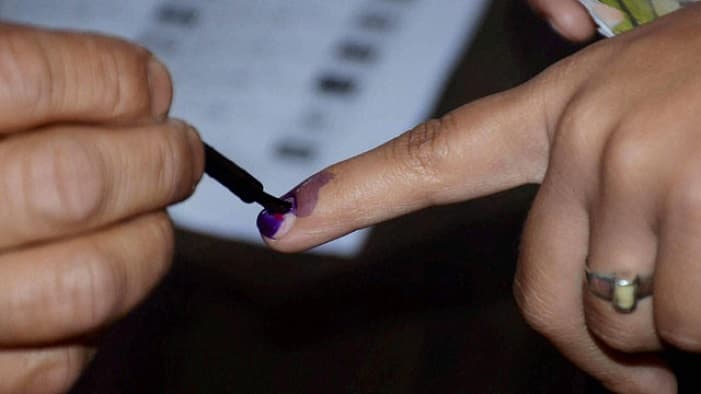 New Delhi, April 11: In what is likely to raise questions at the Election Commission, reports citing Twitter users claim that indelible inks on voters' fingers were getting washed off minutes after casting their votes. Among those who have complained on social media includes noted journalist Bhupendra Chaubey. Mayawati Writes to EC in UP, Alleges Dalits Stopped From Reaching Polling Booths
Chaubey, a prominent face of CNN-News 18, said the ink on his finger came off shortly after he voted at a polling booth in Noida. Notably, the indelible ink is used by the polling body to ensure voters do not cast their mandate more than once.
Watch Chaubey Explaining How Ink From His Finger Vanished:
#NewsAlert | CNN-News18's Executive Editor @bhupendrachaube explains how the indelible ink vanished from his finger after he had cast his vote; take a look.#ElectionsWithNews18 pic.twitter.com/EKPRHD1Cws

— News18 (@CNNnews18) April 11, 2019
Apart from Chaubey, other voters took to Twitter to convey to the Commission that the indelible ink being used is failing to serve its purpose.
I voted. I got inked. I did not believe the people who said that indelible ink is washing off. So I tried nail polish remover - and magic - the mark is gone @SpokespersonECI. What's ECI's response? pic.twitter.com/S12TKw8M07

— Ritu Kapur (@kapur_ritu) April 11, 2019
Quint Correspondent Reiterates The Charge:
.@SpokespersonECI @ceoup Does this look like the hand of someone who voted in the morning today? The indelible ink, as the name suggests, cannot be removed. So was the batch in my polling booth faulty? Please check. I can provide you details separately. @TheQuint pic.twitter.com/xkcRtJPOzZ

— Sameeksha Khare (@sameekshakh) April 11, 2019
"Ink Has Already Vanished"
#LokSabhaElections2019 btw, the indelible ink has already vanished from my nail.

— Ra Ch Na (@raggedtag) April 11, 2019
Apart from the indelible ink controversy, the EVM row also erupted during the phase of polls, as several voting machines malfunctioned in Andhra Pradesh. According to Chief Minister Chandrababu Naidu, nearly 30 per cent of the EVMs malfunctioned. The SEO, however, claimed that only 362 of the 45,000-odd voting machines were hit by a glitch.