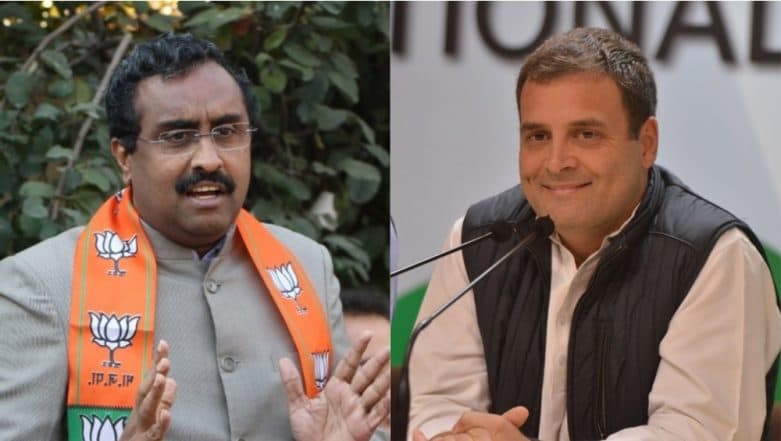 New Delhi, December 26: In rare praise, a senior Bharatiya Janata Party (BJP) leader on Wednesday acknowledged the role played by Congress president Rahul Gandhi in his party's victory in the recent assembly elections in Rajasthan, Madhya Pradesh and Chhattisgarh. BJP general secretary Ram Madhav, who comes from RSS background, said there was no doubt about Rahul Gandhi's contribution to the Congress' victories.
"Rahul Gandhi is the leader of Congress. It's for them to decide if his leadership is beneficial to them or not. How can we comment on his leadership for Congress?," Ram Madhav told news agency ANI. "He tried his electoral mettle in recent polls and brought some victories to Congress, there's no doubt about it," the BJP leader added. Elections 2018: The Year When Congress Rose, BJP Shrunk.
In a closely-fought contest, the Congress, headed by Gandhi, emerged as the single largest party in Madhya Pradesh assembly election 2018, winning 114 out of 230 seats. The BJP, on the other hand, came close with 109 seats. Moreover, the BJP was routed in Chhattisgarh and defeated in Rajasthan by the Congress despite aggressive campaigning by Prime Minister Narendra Modi, BJP national president Amit Shah and a host of leaders.
Madhav, however, downplayed Gandhi's potential for being a prime ministerial candidate in the 2019 Lok Sabha elections. "If Rahul Gandhi could've been an option for PM candidate because of recent victories, then there would've been no need for a grand alliance (Mahagathbandhan). Even today, no one, except Stalin, is ready to confirm name of the leader of Mahagathbandhan. There're six people in queue to become prime minister," he said.