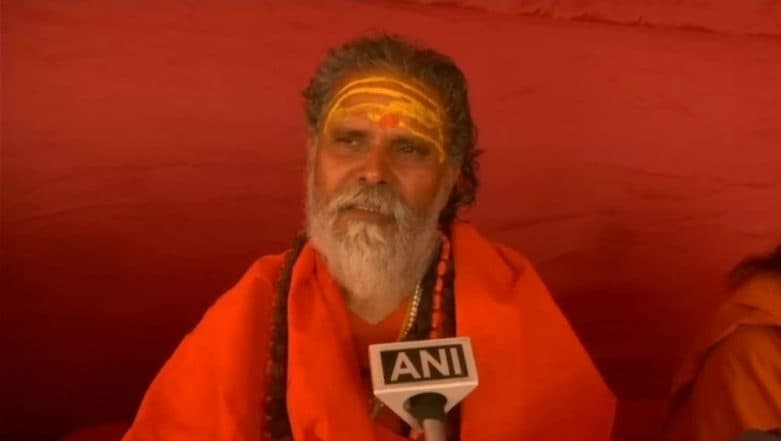 Prayagraj, January 20: Mahant Narendra Giri, president of Akhada Parishad, on Sunday said the construction of Ram temple would start in Uttar Pradesh's Ayodhya after Kumbh Mela ends in March. Speaking to news agency ANI, Mahant Narendra Giri said all saints will hold a meeting in Ayodhya over the construction of Ram temple after the culmination of Kumbh Mela in Praygraj.
"After the end of Kumbh Mela, we have decided that all saints will meet in Ayodhya and construction of Ram temple will start," he told ANI. The president of Akhada Parishad also slammed the Bharatiya Janata Party (BJP) for "delaying the construction of Ram temple". "BJP is not interested in constructing Ram temple as they want to keep this issue alive for election," he claimed. Ex-Uttarakhand CM Harish Rawat Says Ram Mandir Will be Constructed in Ayodhya Under Congress Rule.
The chorus for early construction of the Ram temple at the disputed site in Ayodhya has been growing among Hindu outfits since the Supreme Court refused an urgent hearing in the title suit in the Ram Janmabhoomi-Babri Masjid case. The Rashtriya Swayamsewak Sangh has been demanding the promulgation of an ordinance on Ram temple issue. BJP Only Using Ayodhya Issue for Votes: BSP Leader.
The Supreme Court on January 10 deferred the Ayodhya title dispute to January 29, saying that the five-judge bench to hear the case will be reconstituted as Justice UU Lalit has recused himself. Justice Lalit recused himself after senior counsel Rajeev Dhawan, appearing for one of the Muslim parties, told the bench that the judge in 1997 appeared for former Uttar Pradesh Chief Minister Kalyan Singh in one of the matters related to the Babri Masjid-Ram Janmabhoomi dispute.
The Allahabad High Court had in 2010 trifurcated the disputed site, giving one portion each to Ram Lalla, Nirmohi Akhara and the original Muslim litigant. The apex court is hearing a batch of cross-petitions challenging the 2010 Allahabad High Court judgment on the Ayodhya title suit.