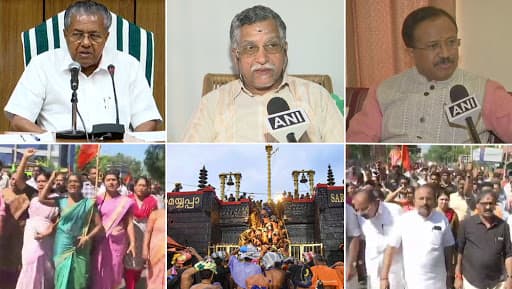 Thiruvananthapuram, January 3: With the Sabarimala Karma Samithi member succumbed to injuries in Pandalam in Kerala, a day after violent protests erupted over two women entered in the state over two women entered the shrine, the rage and protests among the devotees have halted the wheels of state on Thursday.
While the opposition observed 'black day' and called for a 12-hour hartal, CM Pinarayi Vijayan accused Rashtriya Swayamsewak Sangh of inciting violence in the state. Also, shocking revelation comes from Thrissur, where a BJP worker has allegedly been stabbed, and two others are injured.
Blaming the right-wing for the violence and turning the state into a battleground, as protesters go on the rampage, CM Vijayan on Thursday stated, "All the violence we have seen have been coordinated by BJP. The state government has now been forced to intervene, we will take strict action against any sort of violence." Sabarimala Row: Pinarayi Vijayan Blames RSS, BJP For Violence, Says 'Kerala People Not Against Women's Entry'.
Accused of trying to insult the religious belief of Hindus and allowing the women to enter the holy shrine of Lord Ayyappa, the CM clarified, "We followed the SC order and provided security to both the ladies, they were not given any special preference." The CM also stated that the violent protests were meticulously planned by BJP, who pelted stones as cops and media persons.
Earlier in the day, BJP leader V Muraleedharan alleged that the two women entered Sabarimala Temple were not devotees but Maoists. He said, "Yesterday two women entered Sabarimala Temple. They weren't devotees. They were Maoists. CPM with selected police officers prepared an action plan and then saw to it that the women go inside the temple. This is a planned conspiracy by Maoists in league with Kerala government and CPM."
Even Congress MP K Suresh too opined the similar statements. He said, "We're observing 'black day' in Kerala today. State government is challenging the sentiments of devotees of Sabarimala. With the sponsor of state government, these two young women entered the temple. They are activists, they are Maoists." However, Congress parliamentarian Shashi Tharoor stated that both BJP and state government are responsible. He said, "What the BJP is doing in Kerala is deplorable, but the Kerala government is also at fault. We are in favour of woman empowerment, but this is a matter of faith."
Vijayan had targeted the chief priests of the shrine after the temple was closed for 'purification'. He stated that if he couldn't comply with SC order, he should have stepped down. It's not just against SC order, but also Devaswom Board rules, the CM added.
Citing violence and law and order situation, Kerala DGP Loknath Behera on Wednesday said that strict action would be taken against those who involve in any attack or blocking the way of people. On a precautionary note, various universities have postponed their exams, and KSRTC has stooped its operations for Kerala. Sabarimala Temple Row: BJP Leader Calls Women Entering Temple 'Maoists'.
Supreme Court on Thursday refused to give an urgent hearing to a mentioning by a lawyer, PV Dinesh, seeking initiation of contempt proceedings against the Sabarimala temple priest for purification of temple premises after entry of two women on Wednesday. The matter has been fixed for January 22.