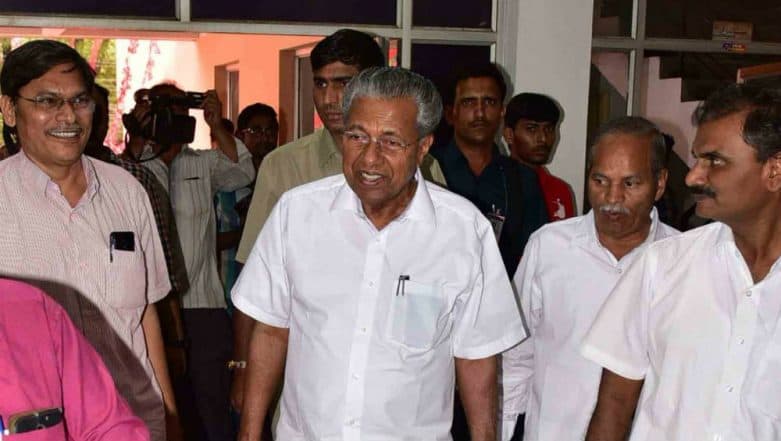 Kochi, January 3: After a devotee died in clashes, Kerala chief minister Pinarayi Vijayan on Thursday held the Bharatiya Janata Party (BJP) and the Rashtriya Swayamsevak Sangh (RSS) for violence over two women's entry to Sabarimala temple. Pinarayi Vijayan said the matter was politicised by the BJP and RSS, while the people of the state are not against the entry of women under 50 to Sabarimala temple.
"It's the government's responsibility to give protection to women. The government has fulfilled this constitutional responsibility. Sangh Parivar (RSS) and BJP are trying to make Sabarimala into a clash zone," the chief minister said. "Everyone knows what all damage they (Sangh Parivar) have done in Sabarimala. This is the fifth hartal called by the BJP on the issue of Sabarimala," he added. Sabarimala Temple Row: BJP Leader Calls Women Entering Temple 'Maoists'.
Giving the details of damage to properties during the violence, Vijayan said: "Seven police vehicles, 79 KSRTC buses destroyed and 39 police personnel have been attacked so far. Most of the persons attacked were women. Women media persons were also targetted."
Several Hindu outfits have called a dawn-to-dusk 12-hour strike in Kerala today against the entry of two women of menstruating age into the Lord Ayyappa temple. Congress-led United Democratic Front (UDF) is observing the black day to register their protest over the development.
On Wednesday, two women, Bindu and Kanakdurga, both in their late 40s, entered Sabarimala temple to offer prayers following which the state witnessed a string of violent protests. Protestors pelted stones, raised slogans and hurled abuses against each other.