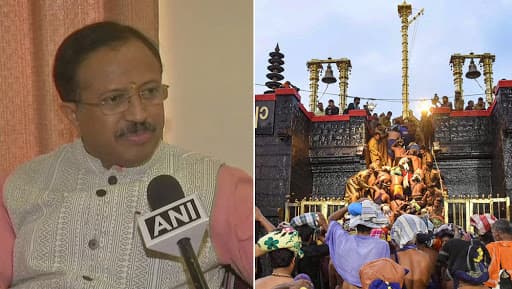 Thiruvananthapuram, January 3: BJP leader V Muraleedharan on Thursday alleged that the two women entered Sabarimala Temple were not devotees but Maoists. He further claimed that they were selected by the CPM-led government, which prepared an action plan for the women to inside the temple.
Accusing Chief Minister Pinarayi Vijayan of playing politics with the sentiments of the Hindus, the BJP leader said, as reported by ANI, "Yesterday two women entered Sabarimala Temple. They weren't devotees. They were Maoists. CPM with selected police officers prepared an action plan and then saw to it that the women go inside the temple. This is a planned conspiracy by Maoists in league with Kerala government and CPM." Sabarimala Temple Row: Right-Wing Groups Observe 'Black Day' And Hartal As Ayyappa Devotee Dies in Protests After Women Enter Shrine.
Adding on, four opposition parliamentarians - NK Premachandran, KC Venugopal and Suresh Kodikunnil, PK Kunhalikutty – moved an adjournment notice in the Lok Sabha to raise the issue of women 'violating' traditional rituals of the holy temple of Lord Ayyappa in Pathanamthitta district of Kerala.
Earlier, the state police detained two people in connection with Wednesday's violence in Pandalam over women's entry in Sabarimala temple. In the stone pelting, a Sabarimala Karma Samithi member - Chandran Unnithan (55) – died. Soon after the incident, the organisation announced a 12-hour hartal in the entire state, to which the opposition United Democratic Front has given support. However, they have called this a 'black day'.
Citing violence and law and order situation, Kerala DGP Loknath Behera on Wednesday said that strict action would be taken against those who involve in any attack or blocking the way of people. On a precautionary note, various universities have postponed their exams, and KSRTC has stooped its operations for Kerala.