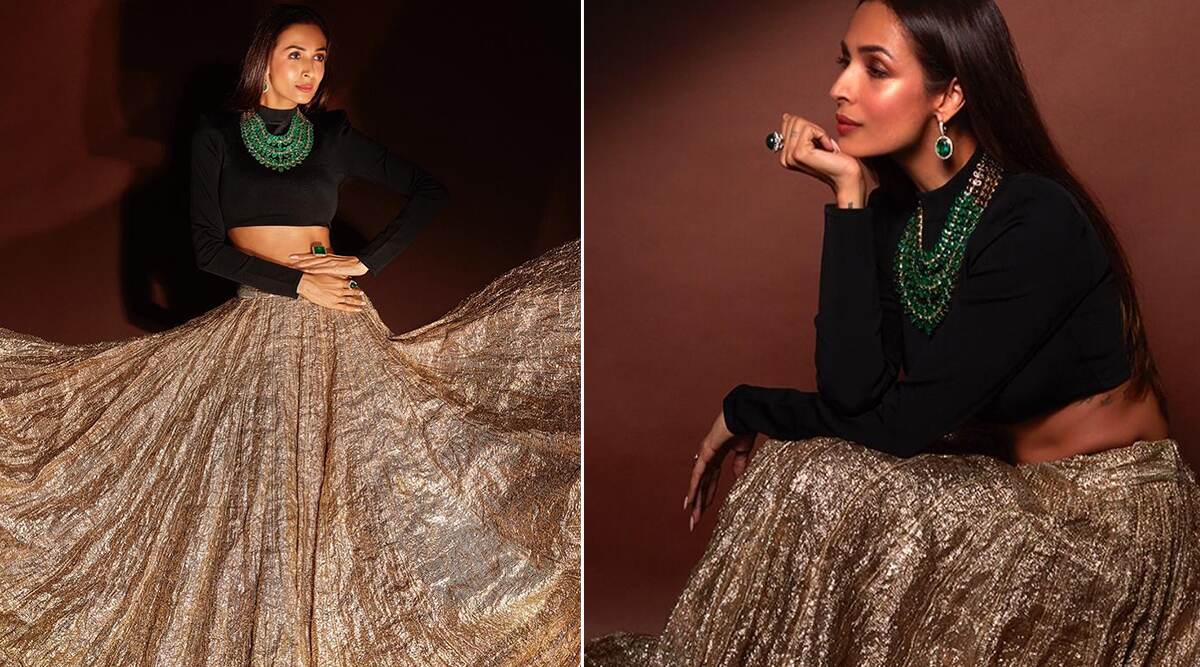 Malaika Arora is known to be the ultimate style diva of the generation. She entered the hearts of the fans dancing on "Chhaiyya Chhaiyya" and never really left. Even though she is not much seen in the filmy space, her presence on the social media and the industry as a whole is bright. The fitness icon is now slaying it like a true fashion diva, on the occasion of Diwali 2019. The actress turned up the heat on Instagram feed with her gorgeous photoshoot with ethic wear. Fashion Face-off: Kareena Kapoor Khan or Malaika Arora - Who Styled this Crinkled Lehenga by Itrh Better? Vote Now.
Now, when we talk about ethic outfits to wear on Diwali, we generally visualize heavilly embellished attires with a lots of colours on it. Don't we? However, Malla broke that rule with her stunning plain back crop top paired with burnt gold crushed lehenga. The beautiful couture by Ithr is a testimony of the fact that black can never ever go out of fashion, irrespective of whatever the occasion is!
On the other hand, her beaded layered bottle green necklace by Goenka India is the perfect accessory to wear on such outfit. She paired this necklace with matching danglers and finger rings of the same brand. Her make up was kept glam and hair was styled sleek straight. Here take a look at this easy breezy style statement.
How To Look Stunning Like Malaika!
Fuss-Free Style Statement
Black Is Here to Stay
Festivals are often about the vibrant hues but then when you have to attend a semi formal event, this style statement can go a long way. While crushed lehengas are already the new cool, blacks can be now brought into the list of traditional attires as well!